All You Need by Lorelei James: Axl is not Annika's type at all, but she can't help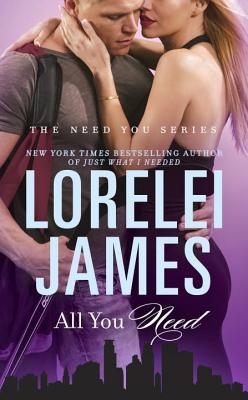 being attracted to the big, sexy, hockey player. While she definitely appreciates his physical attributes, she's not such a fan of his partying, playboy ways. Which is one of the reasons she is less than thrilled to have to playact as his besotted girlfriend for an undetermined amount of time. As a PR executive in the family company, she is smart, savvy, and determined, but her tendency to be a dutiful daughter seems like it's gotten her in trouble.
Axl is more than happy to be out of Chicago and with a new team. He's determined and focused to have his best season on the ice, but his antics off the ice are getting him into trouble. He could care less about his bad boy image or the latest headlines, but he's willing to play along in this charade as long as he still has hockey.
Axl and Annika both felt the sizzling chemistry, but Axl's antics over their first few meetings definitely raised her hackles and her sharp tongue. She isn't shy about expressing her opinions or providing the advice he so badly needs but doesn't want to hear. Axl isn't one to back down from a challenge and they seem to enjoy their war of words and snappy comebacks.
Despite my desire not to react with antagonism, I said, "I'm not a troll or a serial killer, Annika. And I have a list of women who'd be happy to tell the world we're coupling."
She raised an eyebrow. "Dude. Think about it. That's why you have this problem."
Playing at a relationship for the press is surprisingly easy. They get to know each other while fighting the constant pull between them. Both are much more than how they are portrayed in the media and they begin to appreciate the person behind the image. The question of "what next" seems to loom large as theirs was only supposed to be a temporary, sham arrangement.
"Rant and pace. Scream if you want. There's no one here but me. And when you're done, we'll talk, okay?"
Her eyes narrowed. "You're being strangely agreeable."
"For now." I grinned. "I can be as disagreeable as you prefer later."
All You Need is compulsively readable as the Need You series gets better with each book. Lorelei James dials up the tension and anticipation with great banter and chemistry. Ms. James provided great characters in the tight-knit Lund family who are as entertaining as they are relatable. All You Need can be read as a standalone book. Fans of Jaci Burton and Jessica Clare will enjoy All You Need.

Book Info:

Publication: April 4th 2017 | Berkley Books | Need You #3
A hockey romance burns up the ice in the third sexy Need You novel from the New York Times bestselling author of the Mastered Series and the Blacktop Cowboys® Series.
PR agent Annika Lund can spin any disaster into a win. But revamping the reputation of a notorious Swedish hockey player will take every trick in her arsenal, especially when his agent insists that convincing everyone he's no longer a playboy is top priority. And that it requires a sham relationship—with Annika playing the part of loving girlfriend.
On fire in the rink and in the bedroom, Axl Hammerquist couldn't care less about being anyone's golden boy. So when his agent forces him to play nice with a new publicist, he takes satisfaction in being as much of a pain as possible. But the more time he spends getting to know Annika, the more Axl starts to think that being Mr. Nice Guy might be worth it if it gets him the girl…