Almost a Bride by Sarah Mayberry: Tara Buck was safe and stable, after all she had to be. Her father left when she was 13 and while her sister reacted by acting out and becoming "flighty" she had to stick around and become the stable daughter her mother could count on while she was falling apart. So Tara became a cop, got engaged to a safe high school history teacher and didn't look twice at her "new" partner…. Well maybe twice….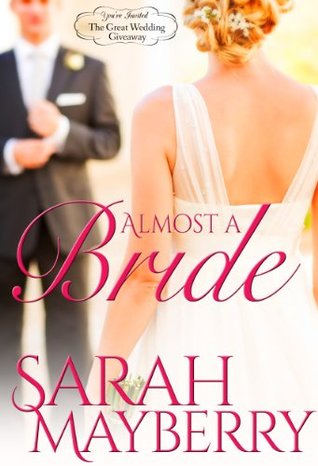 Reid Dalton always had a bit of a wanderlust in him, but Marietta was always home so when his dad got hurt it didn't phase him to come home join the local force and help out at the family orchard. He didn't plan on sticking around long though so when he met his partner he was grateful to find out she was engaged, wasn't he?
Then Tara's world falls apart and it's Reid delivering the news that her fiancé was not what he appeared to be. As she starts to come to terms with that Tara realizes that her world isn't what it appeared to be either. With all of these thoughts and feelings coming up Tara's world is shifting and along with it Reid's as well will they finally be able to find happiness or will Reid's wanderlust over take Tara's need for stability?
Ms. Mayberry has followed up Scarlett's story (Tara's sister) with a huge bang. While this is certainly a stand alone story it's great to see the theme and the characters come back to life in this read. Though the story line is something fairly well used, you won't be bored by Ms. Mayberry's take. The changes in Tara are very real and well played out, not to mention well written. The only thing I would like to have seen differently would have been more on the changes in Reid leading up to his final decision but overall it was a great read and a great conclusion to the Buck girls.
Book Info:

Published April 12th 2014 by Tule Publishing Group
Tara Buck has always been the good sister, level-headed by comparison to Scarlett, her flaky, impulsive twin. But when Tara learns her fiancé has been cheating on her with one of his school students, the orderly world she's created for herself suddenly feels as if it's falling apart. For years she chose the safe option, but from now on she's going to live a little, stretch her wings…be a little daring. And if that means acting on the long-suppressed feelings she's always had for Reid Dalton, then so be it!
Reid has wanted Tara from the moment he met her, but she's always been out of bounds. Not only is she his patrol partner at the Bozeman PD, she's also engaged. But then her relationship blows up, and Reid finds himself battling his own instinct to stake his claim with the finest, hottest woman he's ever known.
Even if anything did happen between them, it would only ever be temporary – Reid's a born wanderer, while Tara's roots run deep in Marietta. So even if things are good between them, it seems their romance is destined to be short and sweet…