In Almost My Prince (True Royalty) by Miranda King, All Sassandra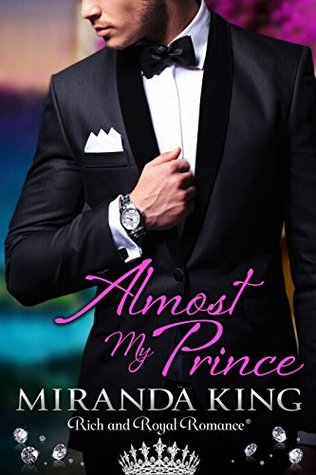 "Sass" Wellborn wants out of her life is to become a lawyer, just like she promised her beloved grandpa before he passed away when she was young. But it seems that having made friends in Harvard with a few members of European royalty has thrown her into the spotlight. And the tabloids. Sass is somehow now linked to Michael, prince of Maravista, and the paparazzi are going crazy to find out if she will be the next Kate Middleton.
"These kids aren't going to be playing with dolls." I crossed my arms. "They'll be designing clothes on a miniature scale, and then eventually for people, too," I said. "Don't you like wearing clothes, Mr. Princeton?"
"Not always, never at night."
Hot blood rushed into my cheeks. Dear Lord, how was I supposed to respond to that?
Sass escapes the onslaught by going to Maravista where the paparazzi is not permitted. However her first day teaching doll fashion classes at the local high school starts off with her already crushing on the principal, Mr. Princeton. With both Michael and Princeton interested in Sass, as well as the drama that always follows her family, she'll have to work doubly hard to get her life back on track. And to choose the guy who will fill that life with love and laughter.
He trailed butterfly kisses along my cheek. "I can't resist you anymore." Kisses along my neck. "My life is complicated." Kisses back up to my cheek. "But I want to share my life with you."
Almost My Prince was a funtastic novel that managed to be both trendy and timeless. When royalty, Southern charm, paparazzi, and an exotic locale are mixed, pure entertainment happens.
I truly did have a lot of fun with Miranda King's debut novel. I'll admit that when I first began reading it, I thought maybe I had missed a previous book. We were dropped right into the action from page one. But as it progressed, I realized that it was meant to be that way, so we could figure out who everyone was and how everything fit together. Of course this made the pace quite fast, but it worked perfectly and was still realistic considering how much was going on in Sass's life.
The characters Ms. King created were a hoot to get to know. Sass and her grandma were, yes, comical together, but they shared such a wonderful bond, protecting each other fiercely. And there was a lot of that loyalty between Sass and her friends, especially as she traversed the globe and began working in Maravista. I also thought her mother was the type of self-centered character that was SO easy to hate. It made me more empathetic toward Sass, with her struggles over never feeling good enough for her parents.
I should caution readers that this is a cliffhanger (and just when it was getting really hot, er, I mean interesting!) that did end on a positive note. Sass made her decision between Prince Michael and her boss Christian Princeton. Thankfully, though, this wasn't a love triangle riddled with a lot of angst as she basically knew from the start where her heart would lead her. But it was certainly a fun process with a ton of flirty dialogue along the way. 😉
Looking for a royal Mediterranean adventure? Sass and her crew will keep you laughing and sighing happily with their (mostly) well-intended antics in Maravista.
Book Info:

Published December 16th 2014
Tabloids proclaim Sassandra "Sass" Wellborn has tamed The Playboy Prince from Maravista, a country between Italy and the French Riviera, near Monaco. That soon, she'll "trade in her American passport to reign as the future Queen of Maravista."
What?!
Sass knows the truth behind this tabloid tangle. It's all a series of mix-ups caught on camera between her and the Crown Prince, and perhaps her slap, his wink, and a fashion doll—yes, a doll.
The prince, however, insists Sass belongs with him in Maravista. But Sass has law school in her future, if she can keep these tabloid rumors from ruining her chances.
But when Sass accepts a temporary job teaching Fashion Doll Design in Maravista, she somehow stirs up another royal rivalry between her new boss and the prince.
How will she handle these two men without causing even more scandal? Worse, the longer Sass stays in Maravista, the more she almost wants a prince after all.
*First book in the True Royalty series. Intended for readers 18 and over.