Alone With You by Michele Callahan: Sometimes when love hits it hits so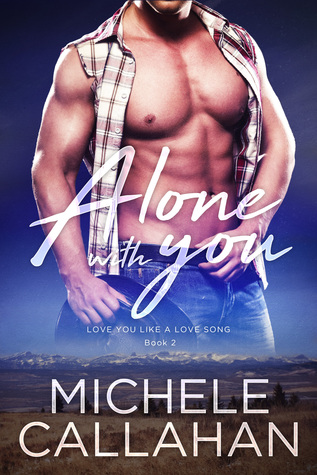 hard it throws you for years.
Claire Miller knew that feeling. She was in third grade when it happened and now over a decade later she was still in love with him. The problem at least in her head was that they didn't want the same things, did they? She wanted to travel and explore and he was tied to the land, his home and his past.
Jake Walker had been hit too though and for over a decade he had been in love with her. However he was just too stubborn to see that in asking her to change who she was he was trying to change who he was in love with. He just knew he had a single picture in his head and that was what he saw.
Due to some bad circumstance they were together again for three weeks. Those three weeks would decide their future, would it be together or would they part again for nearly a decade?
Ms. Callahan has given us another Walker brother story that is an emotional rollercoaster, but of the best kind. Her word choice is really wonderful, neither too verbose nor too skimpy. The plot flows like a river after the rain. Her characters, both primary and secondary are relatable, lovable and necessary. The story will have you reaching for your tissues for sure, but in the best of ways… just be prepared there are still more brothers and more stories to wait on.
Book Info:

Publication: Published February 25th 2016 | Tydbyts Media | Love You Like a Love Song #2
Claire Miller fell in love with Jake in the third grade. Life was on the fast track to perfect when he finally moved her out of his 'friend zone' their senior year. One hot night of reckless passion changed things between them forever. Jake rocked her world, but Claire had plans for her life. Knowing she could never be what he needed, she let him go and has missed him every day since. That was seven years ago. Plenty of time for Jake to fall in love with someone new, get married, and move on.
Jake Walker knew the first time he saw Claire, when he was nine years old, that he wanted to marry her. At seventeen, he let her go. But seven years later, the sight of her hit him like a punch to the gut. She was more beautiful than ever, and every cell in his body demanded that she was 'The One'. But can he convince Claire?
Alone With You is a scorching hot, contemporary, new adult romance of 57,000 words. This is a stand alone novel with a HEA.