In Always the Hero by Alison Roberts Tom is a rescue paramedic who arrives in Kaimotu when earthquake creates havoc on the island and meets his ex Abby after six years. When the past is laid open in front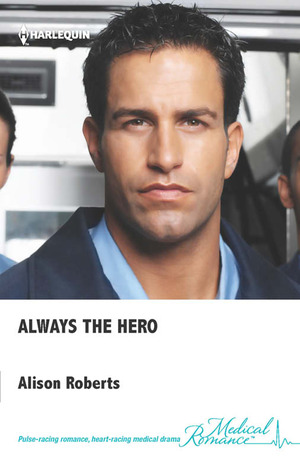 of both of them once again, they realize that they still have feelings for each other. Amidst all the troubles Tom also learns that he is a father to a boy who is missing and reportedly in danger. Now given a second chance will these two fight for their child and love..??
Always the Hero by Alison Roberts is a fast paced short read with a predictable story. The storyline was quite original and the flow of the story was smooth and too quick for my taste. Most of the story is set in the earthquake and its aftermath with the romance evolving and developing much later. Tom was my favourite kind of hero-the one who puts the lives of others before his own and basically is a savior.
Abby was a strictly ok heroine for me because she had nothing special in her. I wanted her to fight for her love and her reasons for not telling Tom the truth about their son were not justified according to me. The romance was ok and too fast with not so great development of emotions.
Overall it is a good fast paced read but I won't classify it as a strictly romance novel because it did not have the emotional moments I generally expect from romance and most of the times I could predict the story. It fell short as compared to the author's previous work.
Book Info:

Published August 1st 2013. Harlequin Medical Series
Will discovering he's a father finally tame this daredevil?
It broke Abigail's heart to leave Tom Kendrick, but the delectable rescue paramedic was always chasing danger, always being the hero. It made Abby feel she came second in his life–she couldn't risk their baby feeling that way, too.
When an earthquake strikes Kaimotu, Tom is flown in to the rescue. Seeing Abby again is devastating–he'd thought he'd put the past to rest, but that pounding in his heart is not adrenaline… And to learn he is a father, too–amid all the turmoil–is galling…until he realizes he has this one chance to fight for his child and the woman he loves.(less)