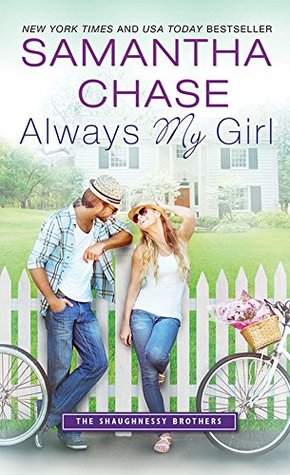 Always My Girl by Samantha Chase finds Quinn Shaughnessy looking at his best friend, Anna, in a new light. He's never seen her as anything but his best friend until one day when he finds her in a bikini, which is the first time he's noticed her as a woman. Anna, however, had been harboring more than friendly feelings for Quinn for years.
I had mixed feelings about Anna. I loved how she was such a great friend to not only Quinn, but to his siblings as well. What I didn't like was that she came across as a doormat at times. She would do anything for Quinn, including bringing meals over to his house, only to find other women there. She tries to change herself by changing her hairstyle to one she thought he'd like, or by learning how to fix cars just to try to impress him. I was happy when finally grew a backbone and stood up to him.
==She let out a growl of frustration. "Not so long ago, you accused me of shoveling bullshit, and that's what I'm saying right now. So when you can be honest with me and tell me the truth about what's freaking you out, I'll listen. Until then, just…leave me alone."==
I had mixed feelings about Quinn as well. When he was with Anna, he was good, but there were times he did things that brought his character into question. For example, he would take Anna on dates, but he'd take her out of town so they wouldn't run into anyone. He didn't want anyone to make comments about them being a couple, mainly because he felt like he didn't deserve her.
Taking Anna to his father's house for dinner and getting ribbed by his brothers was one thing. It was what they all did and it was normally done in good fun. But to face a bunch of their friends tonight and have everyone witness the change in his relationship with Anna scared the hell out of him. Why? Because he had a feeling he'd get a lot of the same comments and it wouldn't all be said in fun.
It would be the truth.
He wasn't good enough for Anna and she deserved better.
He also agrees to continue to work on the cars belonging to a man who attempted to drug Anna. Yes, she told him it was ok, but she only did so because it would be good publicity for Quinn's business. Once again she was putting him first and instead of realizing it, he only thought about how the situation would benefit him. There are moments he's selfish, and it was a wonder why Anna put up with him for so long.
Samantha Chase books are usually hit or miss for me, but this one was one of the better ones of this series. It can be read as a standalone, but if you want to know about the relationships of the other characters featured in this story, then you'll want to read the previous books first.
If you enjoy the friends to lovers trope, this may be a book that would interest you.
Book Info:

July 5, 2016 | Sourcebooks Casablanca | The Shaughnessy Brothers #3
Quinn Shaughnessy's two older brothers have found their true loves … but Quinn's not about to join that parade. Nope, as he tells his best friend Anna, there's a lot more to life than getting tied down to one person. He's positive tomboy Anna will be on his side – except she's inexplicably developing other interests – even dating! Suddenly Quinn is seeing Anna in a very different light.
Quinn has been Anna's buddy since they were both five years old. She can tell him anything – except the one big secret she's been hiding for years – that she's fallen in love with him. Now Anna is determined to make a life for herself that doesn't include pining for Quinn. Falling in love with your best friend? Easy. Telling them how you really feel? Impossible.