Amish Christmas Abduction by Dana R. Lynn: Wow! Dana Lynn is certainly gifted in the suspense genre! Each time I have the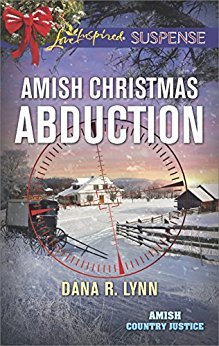 pleasure of reading her romance novels, she keeps me on the edge of my seat. I hope to continue to see more novels from her.
Irene's character is easy to empathize with, a young widow raising her children and working in the special education field. When Irene's life is threatened because she inadvertently discovered a home where kidnapped children were being held temporarily, she encounters Paul, the police chief, and her late husband's boss. Paul is also the man Irene felt betrayed her in high school. He is now responsible for keeping her safe from an extremely dangerous criminal.
Together, Irene and Paul look for the rightful parents of a tiny Amish girl who the kidnapper was trafficking to childless couples. Paul and Irene encounter multiple attempts on her life through the twists and turns of their search. And while they are searching, they both attempt to cope with and suppress long ago feelings.
Will Paul and Irene find the true parents of the little girl, and the true parents of other kidnapped Amish children? Will they be able to keep Irene from further harm? And will they decide to give a relationship between them a fresh start? To find out, I recommend you pick up "An Amish Christmas Abduction"!

Book Info:

Publication: December 1, 2017 | Love Inspired Suspense | Amish Country Justice #3
After catching a glimpse of something she wasn't supposed to see days before Christmas, Irene Martello is run off the road and barely survives. More shocking is the backseat whimper of an Amish toddler stowaway and the familiar sight of their rescuer—the man who'd let her down years earlier. Police chief Paul Kennedy fears Irene stumbled onto a kidnapping ring with two dangerous agendas: retrieving the girl and silencing the witness for good. Only Paul can keep them safe for the holidays. Guarding Irene means risking his heart—and his secret—but to save the child and the woman he never stopped loving, it's a risk he has to take