Amish Christmas Blessings by Marta Perry and JoAnn Brown: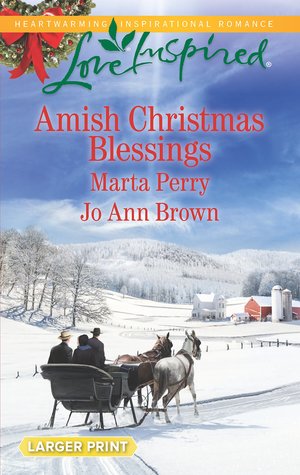 What a fun read! Two of my favorite Harlequin Amish genre romances in one book.
In Marta Perry's "Midwife's Christmas Surprise", we meet Anna, a young Amish midwife living with her mentors' family and trying to create her own patient base while learning from a skilled midwife. Anna often encounters patients, or family members of patients not yet ready to trust her.
Anna is very skilled yet lacks self confidence. Along comes Benjamin, the son of her mentor, who returns home after 3 years of "dinding himself" in the English world. He finds it challe nging to reenter his community, though his parents and brother seem very pleased yet watchful about his return. They are all concerned he will leave again.
Anna and Benjamin slowly rekindle their former friendship. It is sweet to see what this develops into!

In Jo Ann Brown's "A Christmas To Remember", we are welcomed once again into the Stoltzfus family, as Amos offers shelter and friendship to two lost sisters, one of whom has amnesia induced by a head inury.
Amos brings them home to his mothers house, so the older sister can recover. His family and bishop send out numerous inquiries to see if they can find where the two girls came from. Gradually, Amos and Linda become very close friends, though she is hesitant to be too close until her memory is regained. Her little sister, Polly, quickly grows attached to the Stoltzfus children.
This story is a special one, and a beautiful example of how the Amish care for each other. I highly recommend!

Book Info:

Publication: October 18, 2016 | Harlequin Love Inspired |
The Midwife's Christmas Surprise by Marta Perry
Three years ago, the man Anna Zook hoped to marry left her and their Amish community for the English world. Now devoted to proving her abilities as a midwife, Anna has given up on marriage and children for herself. But when Benjamin Miller returns, now a changed man, can delivering a Christmas baby reunite these two hurting hearts?
A Christmas to Remember by Jo Ann Brown
When a little girl leads shop owner Amos Stoltzfus to an Amish woman in distress, he rushes them to his family's farm. "Linda" has no memory and doesn't know if the sweet child is her daughter or even her kin. As Christmas arrives and Linda's identity is revealed, will Amos be able to claim his holiday guests as his own? (