An Invitation to Sin by Sarah Morgan is the second installment in the Corretti Dynasty series. This installment centers around Taylor Carmichael, an American actress, and Luca Corretti – head of the family's couture business.
Taylor's mother got her into the entertainment business before she could even walk. She dictated every decision, every relationship, every person, place, or thing that had to do with her life. She had to sneak out of the house to eat a real breakfast, or a cheeseburger. By the time she was seventeen, she'd had enough. The stress of living up to her mother's expectation was too high.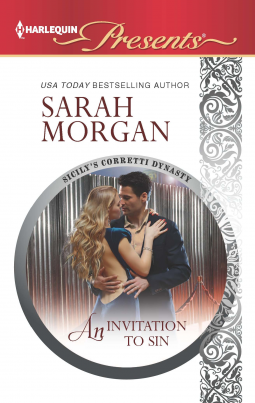 Enter Director Rafaele Beninato. With sweet words and a haven from her estranged family, he swept her into his life. She was young and vulnerable, and much too trusting. When things between them came to an end, he had one final card to play that would keep her looking over her shoulder for many years down the road.
She disappeared, but after reading a script from Corretti studios, she's convinced to accept the part and join society again. Santo Corretti, the film's producer, wants her to be on her best behavior. Even though she never actually did any of the things the press accused her of, she still had to live them down. Taylor agrees to join his family at his cousin's wedding – but after being mobbed by everyone, she retreats to the garden.
Luca Corretti is probably the one person in a thirty mile radius that understands how she feels. All his life he's been disreputable and scandalous. The Corretti Corporation won't even allow him a seat on the board. Contemplating the request to change his life and an annoying woman that should've been a one-night stand, he ducks out of the family wedding to take a break and runs into Taylor.
Attracted to each other instantly, they have some verbal foreplay that leads into an impromptu makeout session at the middle of a hedge maze. Taylor was sewn into her designer gown, but forgets about that while she is with Luca. His jealous ex-lover is ready and waiting – and manages to capture the moment on film.
Taylor is confronted with the story and picture in the paper by Santo, and she comes up with the story that she and Luca have been seeing each other, and they were celebrating their engagement. She realizes that it wasn't the perfect plan, but now she has to convince Luca to go along with it. He balks at first, but when he sees the advantages the fake relationship can offer him, he goes all in.
I enjoyed this book slightly more than A Legacy of Secrets, but not by much. I felt the connection between Luca and Taylor, and the gradual change between them made for good pacing in the story. When he gives her the night she's always wanted, I got a little warm and fuzzy – and that's always a good thing.
A little hotter on the index than book one, but still quite tame comparatively. I'd have to give this one 4.5 hearts. I'm ready to read the rest of the series!
Book Info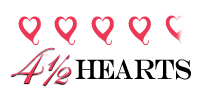 Publication Date: May 21, 2013 | Series: Harlequin Presents (Book 3146)
Snapped and seduced: there's nothing more dangerous than a restless Corretti…
Taylor Carmichael holds one thing precious: the reputation she's spent years rebuilding. Then one encounter with Corretti lothario Luca, a bottle of chilled champagne and a skintight dress and the paparazzi have their shot.Cool, calm and irritatingly aloof, Luca couldn't care less. Splash his face over the papers—he has bigger fish to fry. But Taylor is fuming. Luca had the chance to halt the press and refused. Well, this time she'll make the headlines work for her:
Stop the press—bad boy Luca Corretti to wed screen siren Taylor Carmichael!