Anywhere with you by Debbi Rawlins: With all that is standing behind them can they ever really figure out what is standing in front of them?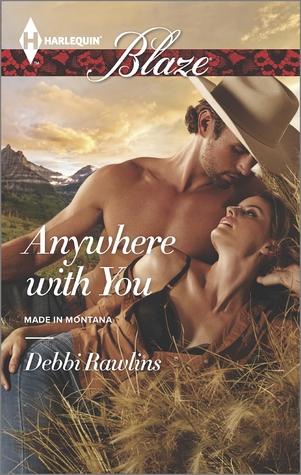 Grace Hendrix was fighting an uphill battle. She was a woman, a deputy, an outsider and running from her past. It was all she could do to not continually question herself but she knew. She was going to be okay. So maybe it wasn't what she thought she would be doing and maybe she wasn't where she had planned but she had done the right thing. When he came into her radar though she had to wonder if he was going to be another battle or if he was going to stick around.
Ben Carter Wolf had run from his hometown 15 years ago, now back he really wasn't sure where he fit in. He was searching for both his past and his future. Not really sure where he came from he thought he knew where he was headed but sometimes a trip down memory lane can change your perspective. Then when you add a woman who you can't get out of your head well maybe everything needs to change.
Grace just wants to be strong. She wants to make a difference and help keep people safe. Ben is struggling but he is finding his anchor with Grace. When challenges keep popping up around them will they cling to each other or will they run?
We go back to Blackfoot Falls, Montana in Anywhere with you by Debbi Rawlins. With this novel you get characters that are deeper than you would expect in a short work. Ms. Rawlins will suck you into the Falls and still have you wanting more. The McAllister family will wrap you further into their clutches and while this is a stand alone novel I warn you that once you read it you will want to scour around for the rest of the series. This is more than a love story it's about two people who are looking for themselves and while they are figuring out that piece they find each other.
Anywhere with you by Debbi Rawlins is a must read for those who like a little depth, a bit of heat and a woman who realizes she can be strong in who she is without being a witch with a capital B.
Book Info:

Published February 17th 2015 by Harlequin Blaze Series #837
Getting in bed with the law
There's a new deputy in Blackfoot Falls—and she just gave stuntman Ben Wolf a speeding ticket! That wasn't exactly the welcome-home Ben was hoping for. After fifteen years away, he's not the angry troublemaker he used to be, even if he was driving a little too fast. But if this is what the law looks like now, he may be tempted to misbehave!
Deputy Grace Hendrix is not in the mood to be sweet-talked by a sexy stranger. To become the next sheriff, she'll have to outsmart her resentful coworkers…and stay out of trouble. Unfortunately, "trouble" is over six feet of mouthwatering, hard-bodied gorgeousness. It's only a matter of time before this good cop indulges in a little bad-boy diversion…