In Archangel's Viper(Guild Hunter #10) by Nalini Singh, The past couple of years have the been the most difficult of Holly Chang's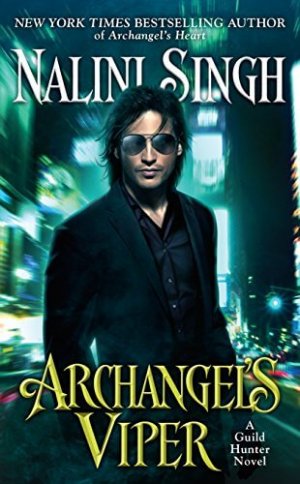 life so far. After being abducted and tortured by psychotic archangel Uram, she went by the name of Sorrow–as that's all she felt at the time. Now something not quite human, not quite vampire, Holly works for the Tower in New York, which is overseen by Archangel Raphael. She's forged new friendships with Dmitri, Honor, Ash, and Janvier, but it's Venom who's always goading her. And while she'd like to wipe the smile off his face most days, Holly has to admit there's something charming and sexy about him. The fact that he's got other abilities similar to hers means he understands her better than anyone else. But with a bounty on her head and the whispers of evil still lurking in her mind, it's probably best not to get involved too deeply with Venom.
Eyes narrowing, she hissed at him, flashing those tiny fangs he still couldn't believe were functional. "Next time you touch me, I'm going for blood."
"It's been said that once you go Venom, you never go back."
"Argh!" Holly fought the urge to take off one of her high heels and throw it at his smug head.
Being part of Archangel Raphael's guard, the Seven, was one of the first choices Venom ever got to make for himself. And he cherishes the friendships he's forged over the years serving his sire. But it's a tiny little dynamo of a female, Holly, who knocks him sideways and has him questioning his own sanity a bit. Venom knows she's been through a traumatic situation and is still healing emotionally. And given the difference in their age, Holly should remain off limits. But the pull only gets stronger and stronger as he realizes how compatible they are–in terms of personality and even in their *otherness*. It's a given that Venom will protect Holly with his life, but it's quickly put to the test as they sort out who is after her unique blood as well as what Uram did to her when she was turned.
'He wanted to tumble her into his arms and explore her, find out if the passionate, fascinated, protective pull he felt toward her had become that most precious of things: home.'
Archangel's Viper paired up two snarky individuals with tortured pasts–both not fully vampires, but something *other*–and put them through a few more complicated battles before they found their humbling HEA together.
'Holly was a predator, albeit one who hadn't yet woken to her full strength. When she did…'
Nalini Singh is known for her complex storylines and characters who seem realistic, even as part of a paranormal world. But she did exceptionally well bringing together Holly and Venom, or Kitty and Viper Face as they so, ahem, lovingly called each other. (lol) Their romance wasn't exactly enemies-to-lovers but it was close. It was more of an antagonistic relationship that I found hilarious. There was nothing mean-spirited about how they bickered and bantered. Instead you could tell there was a mutual respect between them. And I loved all of those moments when Venom and Holly were verbally sparring. So much fun!
Now, because Holly and Venom started off pushing each other away, and being snarky, theirs was also a slow burn romance as they had to accept the attraction they felt for each other. I think some readers may reflect that in their rating of the book but it felt pretty genuine to me that Venom and Holly wouldn't fall right into a romance without giving it some thought first. Venom particularly, being so much older than Holly, wanted to make sure he was doing what was right for her. I loved watching as he realized how deep his emotions ran for her and that we got to see all about his past. Venom was an honorable person from the time he was very young but he wasn't always treated well. It was nice that Holly saw that and tried to prove to him how worthy he was of affection and respect.
While my heart went out to Venom over the choices he had to make over the years, it doubly broke for Holly with what she endured at Uram's hands. I was so glad that she no longer went by the name Sorrow and that she seemed to have turned a corner emotionally, letting go of as much of the terror and horrible memories as she could. I got such a kick out of Holly's spitfire attitude and how she surprised everyone with how strong she was mentally and physically. She didn't take any guff off of Venom and put him in his place more than once, which had me laughing outright. We got to see just how capable she was over the course of this book as her inner strength and her will was put to the test. And seeing how Viper, Dmitri, Ash, Janvier, and even Raphael respected her for it was an absolute treat.
Taking place basically as the last portion of book 9 (Archangel's Heart) was ending, there's obviously still a lot left to this exciting story arc as we learn more with each installment about the Cascade. I think Guild Hunter fans will be enchanted by Archangel's Viper.
Book Info:

Publication: Expected publication: September 26th 2017 | Jove | Guild Hunter #10
Enter New York Times bestselling author Nalini Singh's breathtakingly passionate Guild Hunter world with the story of a woman who isn't a vampire or an angel…or human…
Once a broken girl known as Sorrow, Holly Chang now prowls the shadowy gray underground of the city for the angels. But it's not her winged allies who make her a wanted woman–it's the unknown power coursing through her veins. Brutalized by an insane archangel, she was left with the bloodlust of a vampire, the ability to mesmerize her prey, and a poisonous bite.
Now, someone has put a bounty on her head…
Venom is one of the Seven, Archangel Raphael's private guard, and he's as infuriating as he is seductive. A centuries-old vampire, his fangs dispense a poison deadlier than Holly's. But even if Venom can protect Holly from those hunting her, he might not be able to save himself–because the strange, violent power inside Holly is awakening…
No one is safe.