As Good as New by Jennifer Dawson: Secret high school sweethearts,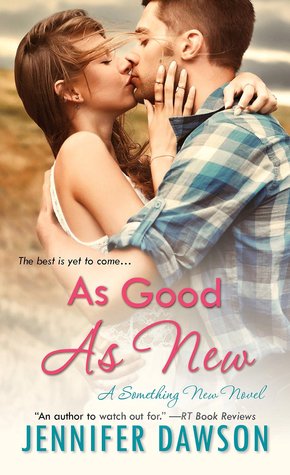 Penelope and Evan fell in love, until they were broken apart when Evan cruelly ended it and became the cliché football star. Years later, they've made sure to avoid one another despite Penelope's close relationship with his family, but now Evan has been kicked out of the game for good due to a bad concussion and only Penelope is able to reach through to him.
The no-contact, no-talking wall has been breached and Evan can't go back. The only girl he ever wanted and he stupidly let her go all those years ago, this time he refuses. If only he can make Penelope first agree to try, and then to believe that this time it isn't going to go crashing down again.
Workaholic Penelope has never wanted a man like she wants Evan, even with his arrogant attitude and man-whoring ways, she can't get him out of her mind. He's the only one who can break her out of her good-girl attitude. She wants to trust him, but after last time, she isn't so sure she can.
"Evan's got you. So you can call the driver."
Do not look at him. Not one little peek. She bit her lip and looked anyway.
The second their eyes met, he said, in a voice tinged with that private tone he used on her, "Yeah, Pen, I've got you."
I absolutely love Dawson's voice. She creates a great, funny community of people and her romances are just so very romantic and hot and full of tension. And even though second chances aren't usually a favorite of mine, I love As Good as New.
My one wish is to see them get to know each other more throughout the story, because, as they say, they're new people. Instead the focus is on the trust, which is definitely needed, I just wanted a bit more to the relationship.
Otherwise, I love Evan. I love seeing him grow after such a huge fall and finally realize what he needs (aka Penelope). And, of course, I love that they've loved each other this entire time and never let each other go. Penelope, too, is just an impressive character. She's strong and it takes so long to break her down but watching Evan do it kept me attached to the page.
I highly recommend As Good As New. In fact, I highly recommend Dawson's entire Something New series. You don't need to read the previous in the series to enjoy this one, but it would sure be a lot of fun to!
Book Info:

Publication: March 29, 2016 | Zebra | Something New #4
He was the high school hottie. She was the teacher's pet. But in private, none of that mattered…
At the tender age of six, Penelope Watkins fell for her best friend's brother, Evan Donovan, future hunk. By the time they were teenagers, they were having heart-to-hearts…and hot and heavy top secret make-out sessions. All that changed when Evan's father suddenly died. Abruptly, Penelope lost him to grief—and to his true love: football. But now an injury had ended Evan's NFL career. The notorious bad boy was in a depression no one could penetrate, except maybe the one woman who still knew him best—and still wanted him most…
Penelope is the last person Evan wants to witness the wreck he's become. So when she shows up at his door he's less than welcoming—even though the sight of her brings back the same old rush of desire. As a teenager, the emotions overwhelmed him. Now, when he wanted to be overwhelmed, Penelope wasn't playing. She was telling the golden boy it was time to man up. It may have taken a concussion for Evan to realize it, but that's exactly what he wants to do—starting with her…