At the Chateau for Christmas by Rebecca Winters is one of those Holiday books that make you believe that miracles really do come true. The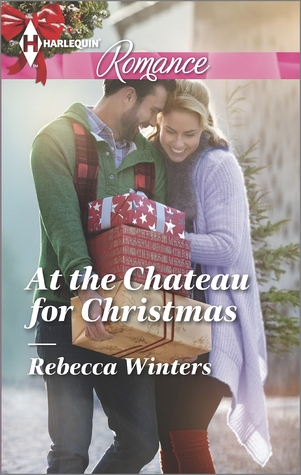 characters just seemed to work their way into my heart and I have to say that I was truly sad to see this book end.
For 21 years Laura Holden Tate has had no contact with her grandmother. Forced to stay away from her because of a long running family feud, Laura is shocked when sworn enemy, Nicholas Valfort shows up in her office in California with news of her grandmothers death and the inheritance that has been left to her. What she doesn't count on is the feelings that she has for the sexy man who's grandfather has turned her family upside down.
Nic Valfort is only abiding by his grandfathers wishes, returning his beloved Irene to her family and informing them of her passing. Nic has enough on his plate with a wife who's disappearance 3 years ago, 5 months after their wedding, has left him at loose ends and desperate for any news of her whereabouts. What he does not count on is the flash of feelings that he has for the beautiful Laura Tate. He has never been unfaithful to his missing wife, has never been tempted, but there is something about Laura that makes him want to hold her close, keep her safe and claim her as his own.
It will be up to Nic and Laura to put an end to the 21 year family war, find the answers of what happened to Nic's wife, and pray that when it is over, they can still have their own HEA.
I loved Nic and Laura. I love how even though they are drawn to each other, they are both respectful of the fact that Nic is a married man who's wife may or may not be alive. I love the interaction between Nic's grandfather and Laura. The scenes in the book where they are watching the DVD's and reading the letters that Laura's grandmother had left her truly touched my heart.
At the Chateau for Christmas is perfect for anyone that believes that miracles can truly happen and that everyone has the chance to love more than once in their lifetime.
Book Info:

Published November 4th 2014 by Harlequin Romance Series #4448
Falling for her enemy…
The Valfort and Holden families are sworn enemies. But when Laura Holden Tate's grandmother dies, just before Christmas, it's French billionaire Nic Valfort who delivers the news.
Returning to France to oversee the inheritance, Laura has no choice but to stay at Nic's chateau. He's the enemy, but at the most romantic time of the year Laura's resolve is tested. And when it transpires that their family feud is not what it seems, it looks as if this Christmas could transform their lives…forever!