Autumn Getaway (Seasons Of Love, #1) by Jennifer Gracen is the start of the journey to finding love. It is about two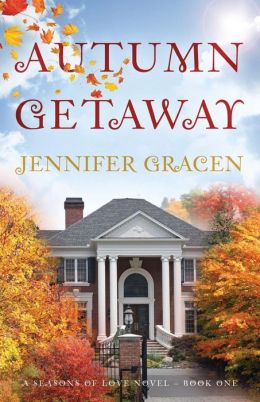 people who meet and have an instant connection, a connection that neither can explain, neither can deny and both would like to explore.
Lydia Powell is a newly divorced mother of a 3 1/2 year old son with speech issues. Leaving her husband and asking for divorce to get out of a loveless marriage was her choice. The only choice that she could make to give herself and her son a safe and loving home. When she goes on a much needed three day weekend to a college roommates wedding, she is looking forward to relaxing, taking in nature at its finest and spending time with the 3 women who have always been there for her, who have always supported her and stood by her in good times and bad. She never in a million years thought that she would find someone who could make her feel alive again, until she meets Sam Forrester.
Sam is not looking for a relationship. He lost his first love and young wife to cancer more than 10 years earlier. Throwing himself into his work, he has made a success out of his love of design, working his way up the ladder, dating occasionally, but never feeling that connection, that spark. That is until he sees Lydia. There is something about her that makes him want to get to know her. There is an instant connection there. They have the same interests, the same strength, the same hopes and dreams.
They have only meet 48 hours ago, but neither is ready to walk away, taking the chance that they will never see each other again. They decide, against the arguments and displeasure of Sam's family to try and make this thing between them work. So begins the journey of these two wounded souls, looking for something that is missing, and hoping that they will find it in each other.
Ok, I have to say that this book is amazing. I love that the book does not have a HEA per say, but the journey of Sam and Lydia will continue one book at a time. I know, it sounds kind of long and drawn out, but I can say that once I picked up this book and began reading, I could not put it down. I will also tell you that unlike other series where you can generally just jump right in no matter the book order, this is not one of those series. You need to read them in order. No big heartache there because the characters, their story is just that good.
I loved Lydia's friends, Kathryn, Donna and Melanie. They have always been there for each other. They only want to know that Lydia is ok, and they will do anything to see that she is. Sam's brother Alec and his wife Paige, I did not like so much. They were mean, and cruel to Lydia, treating her badly because of the fact that her divorce had only been final for 6 days and warning her away from Sam. I get that because of what Sam had been through in the past that they were protective of him, but even when told to back off and stay out of his way, they did not listen and at times caused more problems from Sam and Lydia then anything else.
I loved Sam. He was solid, he was steady and he stood up to his brother and sister-in-law and fought for Lydia. Something that no one, other than her college roommates, had ever done. Not even the ex-husband who was suppose to love her. Sam was always the voice of reason, helping Lydia get past her fears and little by little breaking down the walls that she built to protect herself.
I loved every thing about this wonderful story and I look forward to following Sam and Lydia on their journey to what I hope will be a wonderful HEA in the pages of this beautiful series.
Book Info:

March 27th 2014 by Booktrope Publishing | (Seasons Of Love, #1)
Author Jennifer Gracen brings together a colorful cast of friends and family in Book One of the Seasons of Love series, AUTUMN GETAWAY. Newly divorced mom Lydia is just getting back on her feet. Her college roommate's wedding promises a much-needed getaway weekend with old friends, at a beautiful manor in Connecticut. When she meets Sam, a handsome friend of the groom, she's nearly overwhelmed by a confusing mix of hope and trepidation. Their instant connection feels intensely real, to both of them, but the ink is barely dry on her divorce decree. It takes all her nerve, and more than a little prodding from her girlfriends, to convince Lydia to give her heart – and Sam – a chance. But when the magical weekend comes to a close, Sam must return to Chicago, while Lydia heads back to her complicated life and young son in New York. Can their newfound connection survive the trials of physical distance and years of emotional baggage?