Avenge Me (Fifth Avenue Trilogy #1) by Maisey Yates: Katy Michaels is determined to get her revenge on the man who pushed her sister to commit suicide. Steadfast in her resolve, she took a job that got her near enough to get into his inner sanctum, with help from a woman not unlike her sister was ten years ago. But his gaze made her falter for just a second as she uses a public gathering to sneak into the file room for incriminating evidence. Just as she thought she could escape without another run-in with him, she thought wrongly – very wrongly.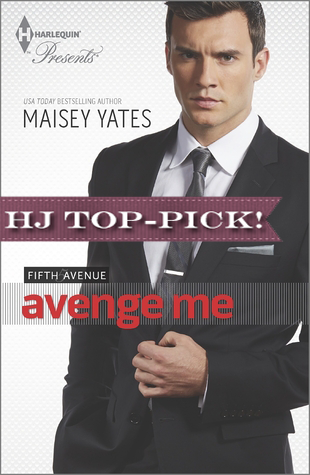 Austin Treffen decided that enough was enough. After receiving an anonymous letter implicating his father in some horrible practices involving women, including one of his best friends ten years ago. Sarah – who jumped off the Treffen building because of it. And now it was time for reckoning. He ignored the problem and his friend then, but he was going to put things right. Getting closer to his father gave him chills, but seeing the woman briefly talking to him at the company gala got his blood boiling.
They were both blindsided by the lust that hit when they got within touching distance that night. When they decided to see how far their attraction went, the night was explosive. Until he found out one of the things she was keeping from her. Then passion turned to anger. And after their just as heated fight, she turned to leave and dropped her second bomb… she was Sarah's sister.
She was powerless to do anything but watch him when he was around. She was missing some brain cells when it came to the man, and she couldn't quite figure out why.
What started as a punishing and almost confusing one-night-stand, turned into Austin protecting Katy by moving her into his penthouse and convincing her to pretend they were involved. Ever so quickly that turned into the truth, and things were never the same.
"I've been… afraid to want anything for so long because I was afraid I would want the wrong things. That I would turn into him. But… as long as it's you I want, I know it can't be wrong. Because what I want always seems to fit what you want."
Wow, what can I say. This level of hotness from Ms. Yates… I was *not* expecting that. I thought it was handled incredibly tastefully, even though there were brushes with BDSM (so be warned). Katy and Austin both have issues with how their lives are going, Katy moreso because of her past. I like that Katy can center Austin by reminding him that no matter how much he wallows, he got to grow up in comfort. I think it humbles him, and he needs that.
The only reason I didn't give five stars is because the wrap-up was done very quickly. I didn't feel like it was completely rushed, but I would've liked more of a reconciliation. However, that's mostly because when it was over I wanted more story to read.
So far, I'm loving this series. I can't wait to get to the next book, "Scandalize Me", by Caitlin Crews.
Book Info:

Publication: June 1st 2014 by Harlequin Presents |  (Fifth Avenue Trilogy #1)
TEN YEARS AGO ONE DEVASTATING NIGHT CHANGED EVERYTHING FOR AUSTIN, HUNTER AND ALEX. NOW THEY MUST EACH PLAY THEIR PART IN THE REVENGE AGAINST THE ONE MAN WHO RUINED IT ALL.
Austin Treffen was born into a world of privilege, but behind its gilded doors lies a corruption so sordid New York's elite would never believe it—especially as his infamous philanthropic father is at its core! With everything he believed in shattered, how can Austin take down his father—risking his family name and those he loves—without any proof?
Until one earth-shattering night with Katy Michaels unlocks not only their deepest, most passionate desires but also the key to bringing Jason Treffen's reign to an end. But with an intense sexual attraction that combines a heady mix of exquisite pleasure and sublime pain, will they satiate their thirst for revenge and each other…or lose themselves forever in the darkness?