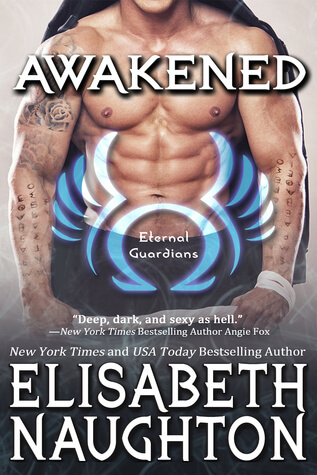 Awakened (Eternal Guardians #8) by Elisabeth Naughton: All I can say is OMG…..GIVE ME MORE! I have loved the Eternal Guardians books since book 1, Marked. Each books is more amazing than the last. With the Argonauts and there fated now having children, I can see this series going on forever! Here is hoping that might be the case. The book take place 25 years after Ari's book. This is the story of Damon and Elysia.
Elysia is the daughter of royality. She finds out that her parents plan to bind her to the son of the council leader and that is something she has no intention of doing. So she does what anyone in her position would do…..she runs. Only she does not get far before the Sirens, the fighters picked by Zeus take her, letting her know that she has been chosen to train and become one of Sirens herself. But for a recruit that is suppose to have no memory of her past, she remembers everything, or at least most of it. She needs to bid her time until she can get back home to her family. However long it takes.
Damon has no memory of who he was before, he only know that the last 25 years of his life have been forced as a sex slave in Aphrodite's Pleasure Palace. On loan to the Sirens to help train the recruits, he is struck by the beauty and the vulnerability of Elysia, there is something about her that calls to him. He will stop at nothing to make sure that she is not cut, that she succeeds at the tasks before her.
Things in these books are never what they seem and that only makes the build up and the conclusions so amazing.
Elysia is nothing like her cousins, they are the fighters, the warriors, she is the protector, the nurturer. So you can only imagine the problems that this causes during her training. Damon not remembering his past and not sure about his future except knowing that he belongs with Elysia causes the two to take drastic measures, but the ending of this story is just as amazing for these two as they have been for all of the other heros so far.
I have to say, I loved the in-site into the fates. They are funny and devilish and they allow a totally new dynamic into each story. To get involved or not get involved is always their question.
Another amazing installment in the Eternal Guardians series and I give it 5 amazing stars!
Book Info:

April 12th 2016 | na | Eternal Guardians #8
DAMON – For twenty-five years he's served as a plaything for the gods. With no memory of his past, he has no way of knowing if this is his ultimate fate, but he senses there has to be more to life.
Damon's hope for more comes in the form of the Sirens' newest recruit. Elysia is unlike any trainee he's ever met. Not only can she remember where she came from—an ability the Sirens block—but she has an instant connection to Damon, one he's never felt and doesn't understand. Soon Damon is willing to do anything to have Elysia. Even risk the wrath of the gods to break her out of Olympus so he can keep her for himself.
But Damon's past isn't a mystery to everyone. Evil forces are at work beneath the surface, and before long, Damon realizes that the connection he shares with Elysia isn't a random coincidence. His fate—and the darkness it brings—was cemented long ago. And when it is finally revealed, no one will be safe.