In Baby by Design by Elley Arden, Trish DeVign knows what she wants and how she wants it. She knows that everything has to go according to plan. But no matter how successful she is in her business, she can't seem to get what she wants in the relationship and satisfaction department. Every man she has dated only cares about their own needs and being on the good side of her adoptive parents, but none have wanted what she wants or cared for her enough. She has secretly desired her friend's family or at least something like that, she wants the chaos, the big family and the love they very obviously share for each other.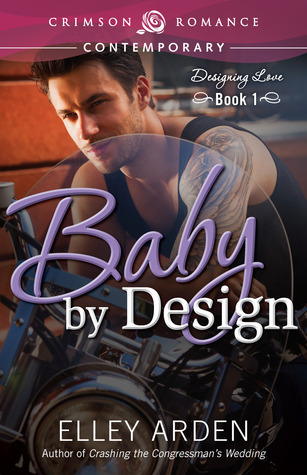 Tony Corcarelli ahs spent his adult life being the black sheep of the family since he decided that he didn't want to run the family carpentry business. And nobody, especially his sister who took the reins of the business has let him forget it. What they didn't understand was that he was happier restoring furniture or creating special pieces instead of the standard carpentry the business entailed.
Now Tony's family has just found out that his grandmother has cancer and may die soon, so the family has decided to each make all her wishes come true, and they expect him to join them. Unfortunately the only two things that Nonna wants from him are either a wife and kids or priesthood, neither of which he can see himself doing.
What Tony doesn't know is that Trish has wanted to have a child and a family for quite a while now, and she would love to be a part of his family. So when he comes to her and tells her what his grandmother has said she cannot help but think that they can help each other. She can give his grandmother the grandchild she wants and she can get the baby she wants, without Tony having to commit to her like he wants.
But things are not as easy as they both think, for no matter how much chemistry is between them and how much they want each other, lying to his family about how things came to be will not be easy, especially since Tony's sister is Trish's best friend. And when Tony sees things from a different perspective and the decides to change the game plan on Trish, while she may like where things may lead, she only wants what she planned and having a relationship is not on the plan.
Tony and Trish will have many things to resolve before they can move on to having what they really want, a family together. They each have many issues to face and courage to gather to take a leap of faith for love and family.
While I liked this story a lot, I really disliked that Trish wanted to plan everything to the last detail. I mean she even planned on how she wanted thing to happen so she could get pregnant, no seduction or foreplay, no getting completely naked and doing it missionary. Once should be enough for it to work. Well I can gladly say that I enjoyed how Tony went about seducing her and changing all her plans that night and after that. Even if it did take him a while to realize that what he wanted was not a temporary thing with Trish.
If you like a sweet, heartwarming and at the same time heartbreaking romance, don't miss Baby by Design by Elley Arden.
Book Info:

November 11th 2013 by Crimson Romance
Trish DeVign knows what she needs to be single, successful and satisfied. She needs a baby. With recent relationships falling short of her expectations, she's single by choice. With a thriving interior design company, she's got successful covered. It's the satisfied part that eludes her, and that's her mother's fault—not her adopted mother, but the mother who gave her away, sentencing her to a privileged life with two good people who don't share with her a single drop of DNA.
Tony Corcarelli has spent his adult life as the black sheep of his large Italian-American family ever since he turned his back on running the family carpentry business so he could live a more laidback life, forcing his sister to take the reins. Now, Tony's grandmother has cancer, and he's expected to join the family in making her wishes come true. Unfortunately, the two things Nonna wants most for Tony are two things he can't fathom: a wife and kids or the priesthood. There has to be another way.
When Trish asks her best friend's brother, Tony, to escort her to a wedding, a night of fun and flirtation turns serious, with Trish confessing she wants a baby. Could a calculated conception be the answer they've both been looking for?