In Baby, It's Cold Outside by Jennifer Probst, Emma Chase, Kristen Proby, Kate Meader, and Melody Anne, We are lucky enough to get five amazing short stories by five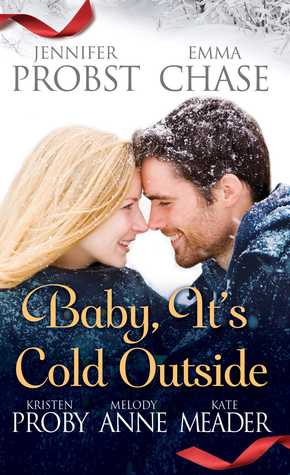 equally fantastic authors. It's no secret that I'm a huge fan of Emma Chase and Jennifer Probst, having followed each of their bestselling series since the beginning. But I've also read and loved Kristen Proby, Kate Meader and Melody Anne, so having them all here in one anthology is a romance reader's dream! Let's check out what happens in each of their holiday/winter themed novellas:
Searching For You by Jennifer Probst: In this second chance romance, Riley Fox and Dylan McCray had a love/hate relationship in college. But the steamy kiss they had together their senior year has never been forgotten. A decade later finds them both clients at Kinnections matchmaking agency, both with the intent of finding that someone with which to settle down. So when they are paired up for a blind date that leaves Riley stranded at Dylan's estate in a snowstorm, will the sparks fly or will they spend their time antagonizing each other like when they were teenagers?
'Riley was spit and vinegar, smart and sassy, and he wanted her. Under him. Over him. In his house, and his bed. Tonight.'
I really loved this short story! Riley and Dylan had a scorching hot connection that came across so clearly in Ms. Probst's writing. The storyline was solid and both characters were so much fun when they were together. Their arguments, which were very passionate, were almost like foreplay for them. Especially Dylan. He just loved to get Riley all wound up, which I thought was comical and very sexy. I think what I enjoyed most was that neither one of them knew back in college just what they could have had together. (Although that one perfect kiss they shared should have clued them in!) And as adults they were finally ready to take those feelings and nurture them. The way Dylan and Riley were so awed by each other was truly something to behold.
It's a Wonderful Tangled Christmas Carol (Tangled #4.5) by Emma Chase: Yet another stellar Tangled novella told from Drew Evans' POV. Dirty-mouthed former playboy, now family man, Drew, is taken on a journey when he decides to close a financial deal on Christmas Eve instead of attending a family gathering. His wife Kate is less than happy with his decision. Upon entering his office, Drew is shown three different visions by three lovely ladies of what impact his choices have on those around him.
'I don't want to watch this anymore. I don't want to know that my actions have hurt the feelings of the two people who mean the most to me.'
I was a very happy girl getting to spend a little quality time with Drew this holiday season. Emma Chase did a great job of keeping with the same in-your-face writing style that we have come to love as Drew's voice, while putting a nice spin on the classic tale, A Christmas Carol. The ghosts of Christmas Past, Present, and Future were fun and poignant, of course. And I certainly did love Drew's straight forward opinions on the holidays and people who have to work on them: Bah Effing Humbug! I was so pleased to see that he has continued to evolve into a true family man without losing his charming cockiness, and this story shows just how deep his love is for Kate, James, and the rest of the family.
Saving Grace – A Love Under the Big Sky Novella by Kristen Proby: In this winter themed short story, schoolteacher Grace Douglas meets billionaire Jacob Baxter when she is given the gift of ski lessons from her best friends. A misunderstanding has Grace thinking Jacob is her ski instructor and they spend an amazing day together on the slopes. When their chemistry can't be denied, Jacob isn't ready to let Grace go. Can he convince her to spend her couple of days on the mountain with him? And if so, might he hope of a chance for even more of her time and company in the future?
'I know that I live only twenty minutes away, but it may as well be a world away. He's a billionaire who owns a freaking ski resort. I'm a schoolteacher. I'm not foolish enough to think that those two worlds can blend.'
This novella was so much fun. I loved Grace's unique sense of humor and her ability to seem totally okay with being a klutz, even though she was cringing on the inside. Her quirky charm was what sealed the deal for Jacob. He was quite the charmer himself, with his suave British accent and dirty, dirty mouth. *fans face* The love scenes were exceedingly hot, as I've come to expect from Kristen Proby's writing. And although they obviously come from two very different worlds, I thought Grace and Jacob were an endearing couple who were completely made for each other.
Safe in His Arms by Melody Anne: This fish-out-of-water story finds schoolteacher Natalie Duncan moving from sunny California to freezing cold Montana right before the holidays for her first ever teaching job. Upon her arrival, a series of klutzy episodes and bad choices throws her into the arms of fire chief, and her landlord, Hawk Winchester. A relationship is not part of her five year plan, so Natalie tries to steer clear of the hunky fireman. But it seems as though the whole town, or at least three meddlesome ladies, won't stop until Hawk and Natalie are a couple.
'This wasn't a part of her plans. This wasn't even on the table, but love didn't care. They had found each other and there was nothing that would change how they felt. Nothing.'
This was a cute romance with a lot of reluctant attraction between the hero and heroine. I had to kind of warm up to Natalie as I didn't connect with her at first. She was so standoffish. But, once we got the full details on her background and once she accepted that the townspeople really were as nice as they seemed, I cheered her and Hawk on. I got such a laugh out of Hawk's self-confidence and charming ways. He knew they would be good together, albeit he thought for a few dates, not forever. I also enjoyed the lovely older ladies who conspired to get these two together. And it sounds like there will be more matchmaking from them in the future, so be on the lookout!
Rekindle the Flame by Kate Meader: This second chance romance burned up the pages. Darcy Cochrane is back in her hometown of Chicago under family obligations when she runs into her first love, firefighter Beck Rivera. She never understood why he called it quits and broke up with her, breaking her teenage heart in the process. Now Darcy is a tattoo artist in demand and takes no crap from any guy. Beck is interested in getting back together but he'll definitely have his work cut out for him with his feisty pricesa.
"Shifting your perception, choosing to take a situation that makes you afraid or hurt or angry, and see it differently–that's the best way to move forward."
Her Beck had become quite chatty over the years. Insightful, too. "Look at you being all wise and shit," she said.
He grinned. "I know, right?"
Fun. So much fun! And super, super hot. Let me tell you, when Beck started murmuring sweet nothings to Darcy in Spanish…I melted. I loved the intense attraction they had every time they were in the same room. It was obvious to everyone around them. There were a lot of layers to this story, I thought, as well. We found out what both Darcy and Beck have been up to over the past seven years, plus different things that were going on with his and her families. I really liked Darcy's grandmother and how persnickety she was, when underneath it all she was actually a big old softie. And I think out of all five novellas, the grand gesture at the end of this one was probably my favorite. It fit the characters perfectly and made me laugh, smile, and shed a tear.
Overall, you can't go wrong with any single one of these wonderful stories. This is definitely one of my favorite anthologies I've ever read and I will be rereading this in the future. Very highly recommended!
Book Info

Published October 28th 2014 by Pocket Books
New York Times and USA TODAY bestselling indie authors Jennifer Probst, Emma Chase, Kristen Proby, Melody Anne, and debut author Kate Meader come together to write a sizzling romance anthology.
Outside it may be frosty, so turn the heat way up with these stories of desire!
Can a determined woman executive and a playboy billionaire survive being stranded together in a snowstorm? Jennifer Probst depicts an encounter almost too hot to handle…
Drew and Kate play an encore to Tangled in this sexy take on a "Christmas Carol" by Emma Chase. When a Christmas Eve argument condemns Drew to a troubled night, three dream women teach him that no gift could be more tantalizing than Kate…
With Kristen Proby, ski slopes are quite delightful. Grace Douglas is sure she'll never learn to ski, but instructor Jacob Baxter could teach her lessons of a different kind…
Can a southern California transplant survive Montana's deep snows? Melody Anne, author of the bestselling Andersons series, melts the icy drifts completely away with the heat between sexy Hawk Winchester and brand-new teacher Natalie Duncan…
What could be hotter than a firefighter? Kate Meader shows how, as Brett Farraday and heiress-turned-tattoo-artist Lucy Cochrane discover, nothing ignites holiday flames like rekindling a lost love…