In Baby Miracle in the ER by Sue Mackay, discovering her ex is back in town and working in the ER where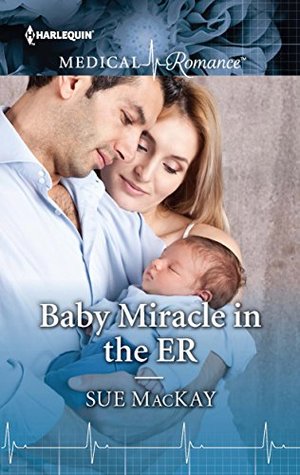 she brings in a patient, paramedic Steph knows there's no avoiding him. Then again, him breaking her heart two years ago has made her wary of relationships, so maybe they could just be friends. Yet, the more time they spend together, the more Steph finds herself falling for him all over again. Will Michael and Steph achieve their second chance at happy ever after or will he break her heart all over again?
"Not a good idea, Michael." Her tongue slid across her lips, refuting her words. She wanted him. Fire glinted in her eyes.
"I agree. Doesn't mean we have to be sensible, though."
Her hands slapped onto her hips, her fingers white where they dug in. "I'm the most sensible woman you've ever met."
"I can change that."
Her lips twitched, but the intensity in her eyes didn't lighten. "I know you can, Michael, but it's not happening."
Ms. Mackay writes some really good medical romances and this story was such an interesting and riveting read where the main characters have history; the dialogue was compelling due to the medical emergencies these two face; and their growing relationship had me reading quickly, determined to discover whether the heroine would give the hero a second chance. The way this story started opened this story with a touch of concern for what's happening and how tough it is for the heroine to deal with. However, it was from the moment the hero and heroine come face-to-face for the first time where things get very interesting because of the heroine's reaction to the hero.
With the main characters, I loved their growing relationship and their back stories and it's understandable why the heroine finds it hard to put her trust in men anymore after everything she's been through first with the hero and then with her ex-husband. Yet, in saying that, the heroine is resilient and courageous in the way she's moved forward with her life and I liked how she handles every medical emergency she has to deal with, no matter how hard they are for her to face. She's also kind and caring, which is proven by what she does for the hero. Yet, what I liked most of all about the heroine is that she gave the hero a chance, even knowing he could hurt her again. While the hero, he's confident, hard-working, charming, a good brother and I liked how determined he was to win over the heroine, especially once he realizes how much he hurt her in the past. I also liked how much he helps his sister and nephew, even if his sister isn't always appreciative of his efforts when Michael is only trying to help her get her life back on track.
"Thank you for believing in this. There will be days I'll be crippled with doubt, but with you at my side I know we'll make it."
"Trust us, remember?" He smiled softly before kissing her thoroughly, wiping away any trace of that fear.
Overall, Ms. Mackay has delivered a delightful read in this book where the chemistry between this couple was strong; the romance was wonderful because these two are so deserving of their second chance at happy ever after; and the ending had me liking the advice Michael receives from his sister, as he needs it, if he's to get things right with Steph this time around. However, it was the epilogue that I loved the most about the ending because miracles do happen. I would recommend Baby Miracle in the ER, if you enjoy second chance romances or books by authors Annie O'Neil, Kate Hardy, Louisa Heaton and Carol Marinelli.
Book Info:

Publication: June 1st, 2018 | Harlequin Medical |
Will love pass them by again?
Or can a baby give them a second chance?
When paramedic Steph's ex, sexy doc Michael Laing, revealed he doesn't do commitment, it broke her heart. Two years later, she's back in town having thought she'd moved on, until she meets Michael in the ER—and their chemistry is as hot as ever! Both are wary of getting burned again, but a little miracle is about to bind them together forever…