Bad for Her by Christi Barth is the first book in the new series, Bad Boys Gone Good. The series deals with three brothers who are in the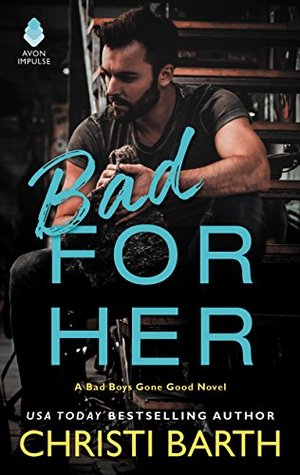 witness protection program and must live completely different lives while keeping low-key.
Former mobster, Rafe Maguire, is getting a second chance at life and a way to protect his brothers. He's getting used to his new name and his job at the shop, but it's an adjustment. When he rescues a hot doctor on the side of the highway, things might just be looking up.
Mollie Vickers loves her small town but it can tiresome, especially when it comes to the dating pool. When Rafe helps her with her flat tire, it's her chance to get a little action. The more she sees Rafe, the more she wants to spend time with him. Since a relationship is out of the question, a friends with benefits type of arrangement is the only choice. As long as they both understand nothing more can come from this, no one will get hurt…right? Turns out it's not easy as they think, especially when Rafe is hiding secrets.
I loved Rafe and Mollie. You can tell how much Rafe cares about his brothers and wants to do right by them. Mollie is intelligent, pretty, and down to earth. But…she has abandonment issues, and I don't blame her. Her mother left her when she was really little and ever since then, her grandma and the town has been raising her. Everyone knows her story, so when she meets Rafe, it's a chance to start fresh and let him make his own opinion about her. The banter between Mollie and Rafe is fun, sexy, and chemistry driven. Definitely worth the read.
The writing was well-done, the cover is absolutely gorgeous and the characters easily captured my attention. Overall, a great start to a new series! Looking forward to the next book. For those who love romances with charming small towns and sweet characters, grab this book as soon as you can!

Book Info:

Publication: October 3rd 2017 | Avon Impulse | Bad Boys Gone Good #1
Doctor Mollie Vickers loves the tight-knit community of her tiny Oregon town. But she's not a fan of the limited dating options. Sleep with a guy who tried to copy off her in junior high? Pass. Mollie's sex life is flatlining… until a deliciously handsome man she's never seen before stops to help her fix a flat tire.
As an ex-mobster, Rafe Maguire's no saint. But he's trying to turn over a new leaf. Although he probably shouldn't kiss the hot doctor on the side of the highway. Or suggest a no-strings fling with a woman he has no business pursuing. Rafe's life is too complicated for love—his new WITSEC-provided identity doesn't fit him at all and there's a U.S. Marshal watching his every move. He can't tell Mollie the truth… but their chemistry is scorching and being good doesn't mean he can't be a little bad.
Mollie can't resist the guy who looks rough, talks tough, and is loyal to the bone. But it's obvious Rafe is keeping secrets. When the truth comes out, Mollie must decide if she could ever love an ex-mobster… or if this bad boy has truly gone good.