In Barefoot at Moonrise (Barefoot Bay Timeless #2) by Roxanne St. Claire,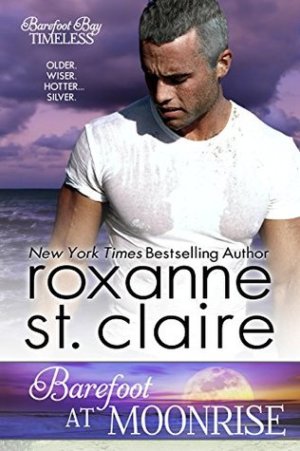 At forty years old, Beth Endicott has finally hit her stride. She's built a business of her own, no longer taking orders from her father, whom she loves very much, but she's tired of being pushed around. Then she attends her Mimosa Bay High School reunion and sees the first man she fell in love with, Ken Cavanaugh. He can still turn heads– hers being one of them. But after a stolen night of passion, Beth isn't sure she can give up her hard-won control and start a relationship with the hunky firefighter. Then two shocking revelations change everything for them, one threatening to pull them apart and the other forcing them together. And Beth doesn't know which choice will hurt worse.
"I blamed you for things that weren't your fault. And I…I threw away a damn great girlfriend." His voice cracked a little, and he looked as if he might want to avert his eyes, but refused to. "I want to apologize, Beth. I want to say that…I'm sorry. I'm really sorry."
She let out a long, slow breath she hadn't realized she'd been holding for…well, for two and a half decades.
Captain Ken Cavanaugh had a one track mind when he showed up at Casa Blanca Resort for his school reunion and that was to make things right between himself and Beth. He's spent years regretting the way they broke up in high school. Although he hasn't let his anger go yet over her family's role in his father's death. But when Ken realizes he never truly lost his feelings for Beth, he becomes determined to win her love. And if that means letting go of blame and animosity for the Endicott's, then so be it. It's not as easy as it sounds, though, when family secrets come to light and what he thought happened years ago is not exactly as it had seemed.
"We can weather anything, Beth," he whispered into her ear. "We won't blame anyone, we won't hate anyone. We'll just hold on to each other no matter what happens, and we will be together. We will. We can do anything. Nothing is impossible with us, remember?"
Barefoot at Moonrise was a reunion story of epic proportions, considering it was twenty-five years in the making. Former high school sweethearts Ken and Beth had a quarter century's worth of resentment, family secrets and simmering attraction to sort through to get their HEA. But boy was it worth every laugh and every tear shed!
I honestly don't know how Rocki does it. Every single book she gives us is utter perfection and I can't imagine how she'll do it again with the next…but she somehow always does. And I'm glad to see that readers seem to be enjoying this newest series, Barefoot Bay Timeless, just as much as I have been. I mean, what's not to love about three gorgeous guys–silver foxes, no less!–and their stunning and sassy ladyloves, right? I've had so much fun getting to know these characters and seeing their more mature attitude while they navigate through romance and life. (It probably doesn't hurt that I'm in their age bracket either… 😉 )
Ken, aka Captain Cav, was kind of the ultimate book hero. He was a former Eagle Scout, a first responder in the Navy and then he became a captain in the local fire department. And he was a kindhearted, laid back guy who longed for a stable home life and a family. Specifically with his former girlfriend Beth. I really adored Ken and cheered him on in his relentless pursuit of making Beth see that they could be great together without her losing her independence. He did have some moments where he didn't want to see reason when it came to the Endicott family business, but overall Ken was the perfect book boyfriend. *dreamy sigh* He even had a sweet, slightly (actually, very) portly canine companion Sally who he loved to bits. His devotion to her made me smile over and over.
"Is that a dog or a hairy beer keg?"
"This is Sally. Don't tease her about her weight. She's sensitive."
He sat all the way forward, then leaned over to greet Sally, who nuzzled and won him over with one look. "But she has a pretty face," Law joked.
"And a nice personality," Ken replied.
Oh how I loved how strong and tenacious Beth was! She was stubborn to a fault at times, yes, but she was trying to prove to her family and more importantly, to herself, that she could run her own business and be independent. Given her history with controlling men in her life, I didn't blame Beth for her choices. Did I want to see her and Ken get together faster? Of course. But I think Rocki did a fantastic job of letting their relationship play out in a natural progression and not letting things get resolved before they should have. Plus, family secrets were a huge part of Beth and Ken's issues, so that had to come out bit by bit. And I loved Beth's emotional and personal growth as a result of what they faced down together. Ken's comment of "Nothing is impossible with us" was definitely true.
With a heartwarming ending and lots of passion and emotional depth in between, Barefoot at Moonrise is yet another reason to become a fan of the Barefoot Bay Universe and of course Rocki's stellar writing. Highly, highly recommended.
Book Info:

Published August 1st 2016 | by South Street Publishing | Barefoot Bay Timeless #2
As a firefighter, Captain Ken Cavanaugh knows his way around dangerous situations—but he'd rather run into a burning building than help plan his 25th high school reunion in Barefoot Bay. Unfortunately, it's his best chance of finally putting things right with Beth Endicott two and a half decades after they ended so badly. But the instant they see each other again, the years blow away like ashes in the heat of their combustible chemistry. For one single night, they let their incendiary passion consume them…but in the morning, they're still left with the smoldering wreckage of a relationship that ended in tragedy.
Raised under the thumb of a rich and controlling man, Beth has spent her adult years craving freedom. Now that she's finally managed to carve out an independent life, is she ready to risk her heart on the first man she ever loved—a man who blames her family for his father's death? With so much painful history between them, Beth can't see a way to have a future with Ken. But one stunning surprise will turn everything they ever believed upside down and send them straight into each other's arms.
Ken is willing to put everything on the line for the family he's always wanted, but Beth knows the past that ruined them could flare into heartache again. It will take all her newfound courage to prove she would walk through fire for this second chance with the love of her life.