In Barefoot in Lace (The Barefoot Bay Brides Trilogy #2) by Roxanne St. Claire, When wedding stylist Gussie McBain has a chance encounter with famous photographer Tom "TJ" DeMille in Mimosa Bay, Florida, sparks fly immediately. It turns out the talented guy is staying in the area, taking care of his niece after his sister passed away, which works out to Gussie's advantage. She desperately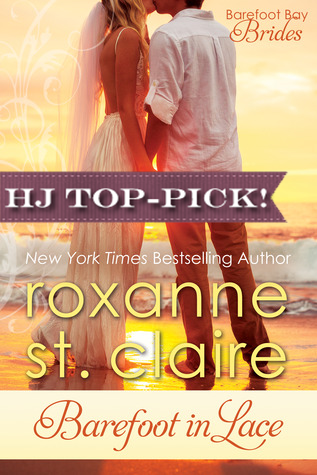 needs a photographer at the last minute for an upcoming wedding and nicely asks Tom. He's not so keen on the idea until Gussie proves helpful with his grieving niece, Alex, with whom he can't seem to reach with any approach he's taken. But she responds to Gussie right away.
"Aren't you supposed to tell me to, you know, make love to the camera or something?"
"How about this?" he asked, pressing a kiss on the top of her head, inhaling the scents of the salon and sunshine. "Make love to the guy who holds the camera."
But once they finish the wedding and begin working on another project together, they realize what they have is something unique and very special. Tom starts to use his "superpowers" as a photographer to help Gussie let go of insecurities that have plagued her since her teen years. He loves her trademark wigs and makeup, but he wants to prove how beautiful he believes she is…inside and out. Gussie wants to help Tom do the same and move past the tragedy and loss that has bruised his heart but she's not sure he'll let her. Can Alex, Tom, and Gussie band together to become a family or will they be afraid of the possible heartache if things don't work out?
Without a word, he grabbed the bottom of his T-shirt and dragged it over his head, tossing it to the side. "There. Look all you want."
"Look? I want to lick."
"Knock yourself out."
Just when I thought the Barefoot Bay series couldn't get any better, Gussie and Tom came along with their incredibly romantic story and swept me off my feet. Cue the waterworks and grab the tissues…
"I want to be the one who makes you hate being alone. I want to be the person who is so important that you are willing to take a chance to lose again because that bet is worth making."
What an emotional journey Roxanne St. Claire takes us on this time with Gussie and Tom. From their memorable first meeting in the local convenience store, to their life-changing trip abroad, this couple struggles to admit the connection they have could be one to last forever. They each had their own hang ups stemming from tragic past events, ones that had me just about in tears, which only further endeared them to me. Finding out what is behind Gussie's wigs and makeup was rather heartbreaking, but I loved the message that even though we may be flawed in our own eyes, we may be perfect to someone else.
I loved Gussie's ability to make everyone around her feel at ease, especially given her insecurities. She was the perfect person to help Tom with his niece Alex, becoming a parental figure and a friend to her. And Tom was a handsome, talented guy who had dealt with so much loss in his life that it almost emotionally crippled him. My heart went out to him, even when he was running scared and pushing people away. The combination of Alex, Gussie, and Tom was at times a bit explosive, but they ultimately stole my heart with their wonderful ending. *happy sigh*
If you're like me and love tender, fun, very sweet romances that aren't afraid to get deeply emotional, you can't go wrong with Barefoot in Lace…or any of the previous books in this series. Highly, highly recommended.
Book Info:

Published September 12th 2014 by South Street Publishing | (The Barefoot Bay Brides Trilogy #2)
Kick off your shoes and fall in love again in with the Barefoot Bay Brides!
Destination wedding planner Gussie McBain needs a man . . . specifically, a wedding photographer. Just her luck that the shutterbug she runs into is more used to snapping pictures of glamorous models in couture gowns than brides in white lace. But Gussie's never been one to let bad odds stop her from a good gamble, so she asks for a favor she never dreams superstar TJ DeMille will actually grant.
Tom DeMille lives his life exactly as he pleases—always alone. In fact, he's got that motto tattooed in Greek on his arm. But when Tom is suddenly saddled with guardianship of his twelve-year-old niece, he'll lose more than his freedom if he can't figure out how to take care of her. Then an alluring young woman with pink hair and a sassy mouth shows up at his door, and he agrees to do the unthinkable . . . photograph a wedding in exchange for some help with his niece.
As they work together, Tom begins to take down the walls Gussie has erected around herself to discover a truly beautiful and tender woman he knows he could love. But will his own heartache and refusal to lay down roots prevent him from giving Gussie the family life she craves . . . or could she be the one woman who can finally break his vow of solitude?