In Barefoot in the Sun (Barefoot Bay #3) by Roxanne St Claire, Zoe Tamarin has been on the run her entire life it seems. For the moment she and her Aunt Pasha are in Barefoot Bay, Florida, staying at her friend's newly built resort. She and Pasha have been a team for the past couple of decades, keeping each other safe and watching each others back. Zoe owes her life to her aunt for saving her from a violent situation when she was a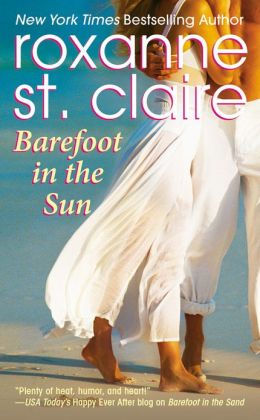 child. Now it's up to her to try to save Pasha's life. Her aunt has been ill and she knows the one doctor who can help her without asking too many questions: her ex-boyfriend Oliver Bradbury. The only problem is that she abruptly disappeared from his life about nine years earlier when she and Pasha decided it was time to cut and run.
"And really, did he have to be hot, even these nine years later? Did he have to still emit some kind of crazy, sinful, senseless pheromones that attacked Zoe's sex-deprived brain like little hormone ninjas?"
Zoe pleads her case to the good doctor but worries he won't be able to get past their rocky history and help her aunt. He agrees but with his own conditions that begin to tangle her back into his life, one step at a time. She can't deny the tension that still exists between them, sexual and otherwise, yet every time they have a chance to work through a previous issue, another one presents itself. When more secrets from Pasha's past are exposed Zoe begins to doubt everything she's ever relied on. She wonders if this is a sign to run again or should she finally stay grounded and fight for what she wants?
"How did she do this to him? He couldn't say no to her. One kiss, one touch, one laugh, one time, and he was gone."
Oliver Bradbury has held onto memories of Zoe for the past nine years and it has helped him deal with his divorce and the transition of moving to Naples to begin a new chapter in his medical career. His first instinct when she tracks him down in Florida and asks him to help her aunt is to hold her tight and never let go. He's still angry over the way she left years ago but his feelings for her win out. Of course he decides to help her and hopes perhaps in the meantime he will be able to get the answers he so desperately craves. Zoe had previously eluded to how crazy her life was growing up and as he learns more details, he understands her reasons for running when things get tough. He knows he can help her get past her issues, but he hasn't been completely forthright about his own past, and fears it will send her packing when she learns the truth. Can he possibly hope for a happy ending with all the secrets surrounding both their lives?
Book three in Roxanne St Claire's Barefoot Bay series is a wonderful story filled with heart-wrenching secrets. Zoe and Oliver don't realize how similar they really are until they finally divulge their secrets and try to help each other come to terms with their past. The female characters are all such strong, loving and independent women in their own rights who have all dealt with some type of pain in their lives. But they are there for each other, supporting their friends and loved ones. Zoe especially tries to act carefree, using sarcasm and wit to hide her fears, not knowing that her friends (and Oliver) can see through her protective wall. This story will have you feeling a multitude of emotions for its characters and will keep you guessing until the very end.
Book Info

GRAND CENTRAL PUBLISHING, FOREVER Release date: April 30, 2013 |
Series: Barefoot Bay
 (Book 3)
A Barefoot Bay NovelWhen running is all you've ever known . . .Caught between fight and flight, Zoe Tamarin has always picked flight. Since she was rescued from a nightmare childhood by her great-aunt Pasha, they've been on the move, never staying in one place long enough to risk exposing their precarious past. But now that they've reached the sun-baked shores of Barefoot Bay, Zoe may have to stay and fight-for her aunt's life . . . and for a love she ran from years before.Sometimes the bravest act of all is to 
stand still
.
Oliver Bradbury came to Florida to start over, as both a doctor and a father to his eight-year-old son. He never expected life to hand him a second chance with the woman he lost years ago-but one look at Zoe Tamarin and he knows he'll do whatever it takes to prove that this time, he can be the man she needs. But when demands of family and friendship threaten to shatter their rekindled passion, Oliver must heal Zoe's lifelong wounds with more than hot kisses . . . but will that be enough to keep her from flying off with his heart?