Bargaining with the Boss by Jennifer Shirk: Kinsley's last romance involved being engaged with her boss, so the last thing she wants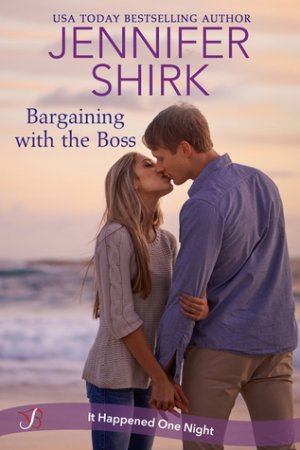 to do is become involved with her boss ever again. But it turns out when her brother is forced to sell the family inn, the new boss is the same whose bed she woke up in that morning after some wedding flirtation.
Damon needs to prove himself to his dad. He's always been the disappointment, and the guilt he feels over his brother's death only makes him need to prove himself even more. But the more he gets to know Kinsley, the more he wants to be there for her rather than his dad and the family business.
Kinsley and Damon will have to figure out how to work out their attraction without letting it get in the way of their working together – and their opposing business goals.
The story had a good start. Damon was strong, attractive, and I was very interested. However, he quickly fell in my estimation when it became apparent he was incompetent. I'm okay if the hero is a disappointment to their parent, but to actually make him appear incompetent made him a little too unattractive.
Kinsley, on the other hand, was entirely competent and definitely impressive – although, that trait of hers was really shoved in my face. I can't say I liked either Kinsley or Damon very much. My favorite aspect was the conflict and enemies to lover's aspect of the story. Otherwise, though, it just fell short for me.

Book Info:

Publication: January 15, 2018 | Entangled Bliss | It Happened One Night #1
Kinsley just wanted to have some fun for a change. Then she wakes up in a stranger's bed, with her bridesmaid dress on backward and a hazy memory of what happened at her friend's wedding. With a quick escape, she can get back to her predictable life. But then she meets her new boss—the same guy she'd woken up next to—and seeing him with a clear head doesn't make him any less attractive.
Mixing business with pleasure has never been Damon's style, and easily avoided, but the hotel he just bought comes with an unexpected perk—its manager. "Sensible" Kinsley today is as alluring as "impulsive" Kinsley was the night before, and she talks him into a deal. If she can turn around the hotel by the end of summer, he won't tear it down to put up more profitable condominiums.
Their plan is simple…until falling for each other becomes more than they bargained for.