Barking Up the Wrong Tree by Jenn McKinlay: Carly loves her life in New York. She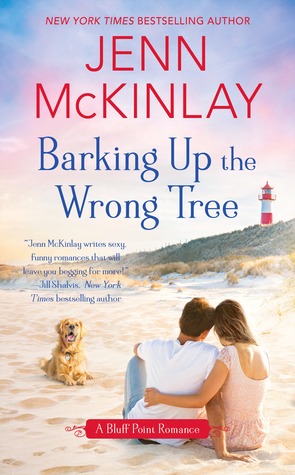 has a good distance from her overbearing family, to include four sisters, and the freedom to enjoy her life. Except after losing her job, her only option is to move home to Bluff Point, live with her parents and annoying youngest sister, and regroup. She's sassy, independent, and adamantly anti-relationships. To make matters worse, she inherits a small but eclectic menagerie of four pets to include a dog, Saul, and a foul-mouthed parrot, Ike.
James is a sexy, successful physical therapist. He comes from a wonderful, tight-knit, and hilarious family. He's generous, compassionate, and lives in the old lighthouse. He's a really good man who has been burned before, but he would like to find a relationship like what his parents have.
Carly dreads returning home with Ike and Saul in tow, but is surprised to immediately find James. She was despairing of her options in the small town, but the sexy and single James is a welcome surprise. Carly is more than happy to part ways after a fabulous one-night stand; James, however, is determined to show her just what she would be missing by walking away.
"Okay, fine, what are we then?" she asked. He shrugged and she said, "Okay, I guess friends it is."
"You're friend zoning me?"
"It sounds so cold when you say it like that."
"Because it was warm and fuzzy when you said it."
"It's a solid step up from what I usually offer."
<<<quote>>>
With James' persistence and determination, they are able to become good friends. Friends who can't quite forget their amazing night or the chemistry that won't go away. They banter and challenge each other. They grow closer as they trade favors and it becomes that much harder to stay in the friend zone.
"Because this"-she gestured between them-"is not normal."
"Normal is overrated," he said. "I have a dog in wheels, you have a bird that swears, I'd say neither of us is really operating under the guise of normal so why should this"-he mimicked her gesturing between them-"be any different?"
Barking Up the Wrong Tree is delightfully entertaining with humor, heart, and heat. Jen McKinlay found a good balance between romance, friendships, and surprises with good character development. Ms. Mc Kinlay developed a great cast of characters in this series to include the hilarious bromance between the pets. Barking Up the Wrong Tree can be read as a standalone in the Bluff Point Romance series. Fans of Kendra Leigh Castle, Kimberly Lang, and Ruthie Know will enjoy Barking Up the Wrong Tree.
Book Info:

Publication: Expected publication: September 26th 2017 | Berkley | A Bluff Point Romance #2
New York Times bestselling author Jenn McKinlay returns to Bluff Point, Maine, where one woman finds love with the help of an adorable golden retriever.
LOVE IS A FOUR-LEGGED WORD.
Carly DeCusati returned home to Bluff Point, Maine, with her tail between her legs. But she's determined to get her life back on track—and that means finding new homes for the elderly golden retriever and overly talkative parrot she inherited before her old life fell apart.
Enter physical therapist and hot one-night stand James Sinclair. James doesn't care that Carly doesn't do relationships. He is determined to win her heart, promising to help her with the pets if she'll just give him the time of day.
Carly agrees to date the irresistible James, and, for the first time in years, she's dreaming of a happily ever after. But James has secrets, and if he can't open up to Carly, their future could go to the dogs…