Batter Up by Robyn Neeley is just the kind of book that foodie lovers all over will love. It has yummy cupcakes, a little magic, and not one but 2 hot reporters Batter up is set in the small town of Buttermilk Falls, a place where everyone knows your name, everybody looks out for each other and hope and faith abide.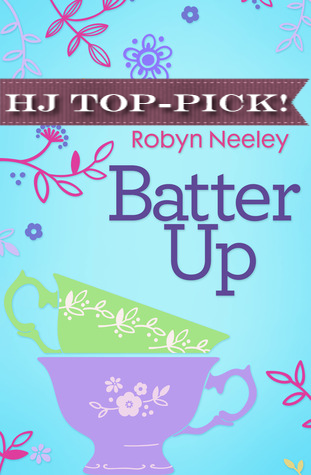 Emma Stevens is the owner of the Sugar Spoon Bakery. She makes the most delicious cupcakes, cookies, cakes and pies, but she also makes a little magic. Yep, every Monday night at the Sugar Spoon she holds Batter Up night. The night when the eligible bachelors of Buttermilk Falls pack the tiny bakery waiting for Emma to do her magic and set them on the path to finding their soul mate. Emma has an excellent track record (never a breakup, never a divorce), but that might all come to an end when nosy, non-believer, Jason Levine shows up looking to prove that Emma has the entire town brainwashed and under some love spell.
Jason Levine could not believe it when he and his buddy Brandon, on Vacation in Vegas, run into a group for Buttermilk Falls claiming that they were matched and feel in love with the help of Emma and her magic batter. Wanting to prove that there is no such thing as magic, Jason heads to Buttermilk Falls to get the scoop. What he didn't count on was falling for the beautiful baker with a tender soul, beautiful eyes and a hopeful spirit.
Now the more time that Jason and Emma spend together, the more Jason starts to question if there really is magic in the air and if he can just have a little faith, the stars might align and give him his biggest wish,,,,,,Emma's heart.
I loved Emma. She has helped so many find true love, but she has never found it for herself. Her life has been a series of disappointments, her dad left before she was born, her boyfriend moves away leaving Emma alone and scared to trust, scared to open her heart for fear she might lose it. Jason has lost the love of his live to a horrific crime, and until now was not sure that he could ever get past the hurt and love again. But the more time that he spends with Emma the more that he realizes that he will do whatever it takes to protect her, even if it means scraping a story.
Batter Up is a funny, sweet, wonderful story filled with yummy desserts, funny encounters, a second chance at love, and a sweet HEA that will leave you satisfied. I gave this story 5 magical stars.
Book Info:

Published August 1st 2014 by Escape Publishing
She mixes more than flour and sugar into her cake batter, and he's about to find out if a little bit of magic is to his taste…
Bakeshop owner Emma Stevens has a secret — a delicious, slightly unorthodox secret. Each Monday, she mixes up a premonition to share with the bachelors of Buttermilk Falls, and sets one lucky man on the path to true love.
When reporter Jason Levine finds himself mixed up in a Las Vegas bachelorette party, he hears the strangest rumour: the marriage is happening thanks to magic cake batter. Seriously sceptical, and sick of frauds, Jason journeys to the backwater town of Buttermilk Falls to expose the baker and release the townspeople from her evil clutches.
But when Jason meets Emma, tempers flare and sparks fly. Will Jason cling to his logic at the expense of a future, or will he let himself fall under Emma's spell?