Be Mine in Good Hope by Cindy Kirk: Marigold was an up-and-coming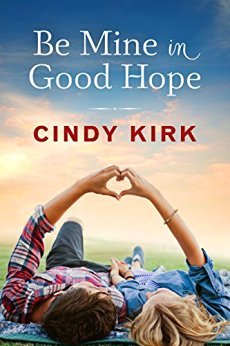 hairstylist at a high end salon in Chicago. When she unexpectedly loses her job, she returns home to Good Hope to re-group and reconnect with her sisters. Marigold didn't necessarily intend to reconnect with the sexy Sheriff as well, but Case provides her with a sense of peace after her world was turned upside down.
Cade loves living in the small town of Good Hope. It was a welcome change after working in Detroit. He's beginning to settle into the community and prepare to run in the upcoming election so he can keep his job. He still remembers the one glorious night he shared with the effervescent Marigold all those months ago when he runs into her again.
"You think I'm handsome."
She rolled her eyes, even as the intoxicating scent of his musky cologne enveloped her in a warm embrace.
"Do you?" he pressed.
"It may be one of you attributes," she grudgingly conceded but had to add, "although my fav is still arrogant ass."
The chemistry is as strong as ever and neither have been able to forget that memorable night. Now that Marigold is back in town, albeit temporarily, Cade is determined to spend as much time with her as possible. Despite knowing that Marigold has one foot solidly out the door, he makes it plain that he'll take her for as long as she's in town. Marigold is smart, loyal, creative, and driven to succeed. She's determined to make it the top as a hairstylist. Her dreams are bigger than Good Hope, but her connection to the sweet and sexy Sheriff is more than she bargained for.
But when he opened his mouth, she added, "Oh, and start the sentence with 'I'm glad.'"
"I'm glad," Cade paused and grinned, "that you're so bossy."
She bumped her hip into his with enough force to send them both skidding on a stray patch of ice. "I know sarcasm when I hear it, buster. If you want to get lucky tonight…"
Be Mine in Good Hope is sweet, sexy, and funny. Cindy Kirk balanced character development and romance as characters on separate paths collided. Ms. Kirk created a sense of family and strong bonds among the residents of Good Hope. Be Mine in Good Hope can be read as a standalone in the Good Hope series. Fans of LuAnn McLane and Kimberly Lang will enjoy Be Mine in Good Hope.

Book Info:

Publication: January 31st 2017 | Montlake Romance | Good Hope #3
Celebrated hairstylist Marigold Bloom knows how to tease beauty out of chaos…until her own life becomes untamable. After losing her prestigious job in Chicago, Marigold returns home to Good Hope, Wisconsin. But her plan to lay low and consider her next move is complicated by an unexpected blast from the past.
Sheriff Cade Rallis has never forgotten the blissful weekend he spent with the irresistible Marigold in Door County. Seeing her again is like a one-two punch to his heart, and he knows he can't lose her a second time.
Marigold never meant for her stay in Good Hope to be permanent, and she certainly never meant to fall for Cade. As Valentine's Day approaches and her dream job beckons, will Cupid's grip on Marigold be strong enough to keep her in Good Hope? Or will the lure of fame and fortune in the big city prove impossible to resist?