Beach Bar Baby by Heidi Rice: Ella was *so* over her solo vacation. Everywhere she looked there were wall-to-wall couples, and she was the odd one out. At least there were only a couple of days to go, and a few activities left on her calendar. Scuba diving was up – and the captain was supposed to be a lovely man in his fifties… but once she got up close, it was definitely not Captain Sonny from the brochure. When he introduced himself as Captain Delaney and offered to be her scuba buddy, Ella wasn't quite sure – but she thought at least the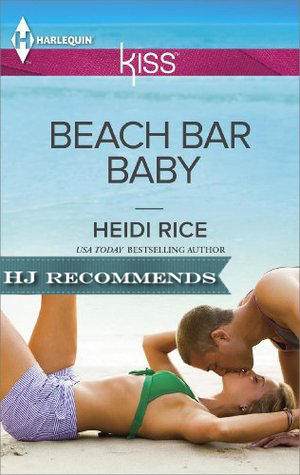 last part of her vacation had become more interesting.
Cooper Delaney had worked for Sonny since he was in his late teens, and filling in here and there wasn't unheard of. Usually, he had to discourage the female tourists from any unwanted attention, but for some reason, he found himself inexplicably *wanting* the attentions of Ella the second she stepped foot onto Sonny's boat.
After an intense night became – without intentions on either side – a one-night-stand, both Ella and Coop retreated to their respective lives. Cooper went back to running his successful business that he never got a chance to share with Ella, and Ella went back to London. They both became very difficult to live with to those surrounding them, until those closest to them took action.
Ella's best friend Ruby noticed Ella wasn't only upset, she was ill. She handed her friend a pregnancy test – and while Ella protested that the odds were way too slim for her to become pregnant, they watched as the test showed the clear blue line. Her feelings were all in a jumble. She'd known that the slightly younger Coop had been adamant about using protection, but having a child of her own seemed like such an amazing miracle.
Cooper barked at everyone around him after Ella ditched him 'the morning after'. Sonny and his recently-engaged daughter were pretty tired of it, and Sonny very delicately told him that perhaps he needed to get himself to the UK before he exploded. Since Coop had some business dealings coming up which were only an hour or so away, he could definitely make time in his schedule to see the woman that was making screwing with his head.
But when the man and woman see each other again – will it be spontaneous combustion in a good way, or a bad one? How about a little bit of both?
Heidi Rice just never disappoints. While her stories aren't predictable, I know I can expect a lot of fun, a touch of wit, and most times – some touching moments that reveal the pink underbelly of her characters.
In this case, Coop was written just as his character would have acted in real life. We got most of his backstory late in the book, although it's hinted at throughout. Ella is much more open. We learn the bulk of her story up-front, with the details peppered here and there to fill in her blank spaces. It was almost palpable to see how much these characters would connect if they could just both open up to each other… but like most romance novels, we know it's never that easy, right? *wink*
Great story, outstanding characters, lovely wrap-up epilogue, mid to high steam level – pick it up if it sounds like that'd float your boat!
Book Info:

Published May 1st 2014 by Harlequin KISS
Beach…
After some bad news, Ella jets off to sunny Bermuda for a bit of solo R & R….
Bar…
By day six, surrounded by honeymooners and smug marrieds, she has to admit the solo bit is getting a teeny bit boring! Why say no to a casual date at the bar with ripped, tanned and enigmatic Cooper Delaney?
Baby!
It's really not Coop's style to flirt with tourists, let alone hook up with one again. But he can't get the sweet London girl out of his head. A business trip to Europe is the perfect chance to see her. Only he finds Ella curvier, prettier…and keeping a secret he was so not expecting…!