In Beach House for Rent (Beach House #4) by Mary Alice Monroe, Getting Primrose Cottage ready for the upcoming summer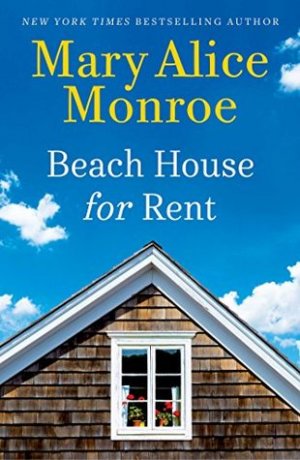 season, with help from her beloved husband Brett, Caretta "Cara" Rutledge can't help but remember the time she spent there on Isle of Palms, South Carolina, with her mother before her death about a decade ago. Knowing the cottage will be solace for yet another woman, this time an artist with anxiety issues, is a comforting thought. But as Cara's own world gets tipped on its axis when tragedy strikes, she herself will once again turn to her beloved family home and her wonderful friends for help through the storm. And what she learns about herself and how she interacts with others will change the direction of her entire future–for the better.
'Cara felt again the reassurance of knowing she was, in a sense, following in her mother's footsteps. It gave her something to hang on to so she wouldn't drown in her sorrow.'
Artist Heather Wyatt was not initially on board with traveling from her home in Charlotte, North Carolina, to Isle of Palms for the summer. But she has to admit that getting out of the house will be good for her anxiety disorder, having to face new people and new situations. Plus it's the perfect location to study shorebirds for her commission for the United States Postal Service, creating paintings that will one day become stamps. Heather's solace is her melodic canaries who traveled with her and fill her days with stunning music. Her other solace soon becomes Bo Stanton, a local Lowcountry gentleman who has a passion for music, woodworking, nature, and very soon for Heather. But when her landlady Cara needs a friend and a place to stay, Heather's summer takes an unexpected turn and helps her understand completely the healing qualities Primrose Cottage holds for its occupants.
'She slipped her phone into a speaker and teed up a medley of classical music. At the first few notes the birds burst into song, standing at the fronts of their cages, chests near bursting with passion. Bo looked up from the floor to watch them, then turned her way, a grin of surprised pleasure on his face.
Looking back, Heather would remember that as the moment she fell in love with Bo Stanton.'
Beach House for Rent was a lovely story about starting over, healing, and of friendship. Set on the Isle of Palms, a serene, magical place with an abundance of local shorebirds and marine life, this lushly written novel had plenty of heart and Southern warmth for readers to savor.
'This charming cottage with the wide front porch carried all her hopes, dreams, and memories. It had been her home–her sanctuary for all of her life… And someday, this very special house might heal the heart of another woman who was buffeted by life's harsh winds.'
There's nothing like a book by Mary Alice Monroe, with her beautiful descriptions of the Lowcountry and the vivid pictures she paints about the way of life in that region. I've read some of her other work but being new to this series, I wasn't sure what to expect. I should've known that she would weave an emotional tale enhanced by the ebb and flow of the Atlantic and the people and wildlife that call it their home. And while this story explores some pretty tough issues, which this author certainly doesn't shy away from, I didn't feel that the tone was overly dark–even though both main characters dealt with loss. Instead there was a sense of hope for the future and of love and acceptance of the people remaining in their lives.
Cara and Heather had two completely different personalities which made things quite interesting. But they also came from very different circumstances. Heather was the one I most identified with personally, understanding her social anxiety issues and her outlook on life. I really liked how she grew as a person, taking steps to overcome her fears and even falling in love. Cara took me a little while to warm up to as I thought she seemed rather aggressive and standoffish. But as her life imploded, a totally new vulnerable side came out which made it easier to empathize with her. I did think Heather and Cara made a good team as friends, a mix of shyness and boldness respectively, that meant they had each other's backs for the most part.
I do have to mention the guys in the story as well: Cara's husband Brett and Heather's love interest Bo. They were basically two sides of the same coin. They both were Lowcountry guys through and through and loved to wax poetic about the local history and wildlife. But more than that, Bo and Brett were solid, lovable, caring men who doted on their women. I would credit Bo's affable personality and his tenderness with Heather for a lot of the positive changes in her life and I adored them together. Such a sweet couple.
Perfect for summertime reading, you can enjoy this as a standalone or as part of the Beach House series. Either way, I think readers will be charmed and fall in love with the Lowcountry and the intriguing characters we meet in Beach House for Rent.

Book Info:

Publication: Published June 20th 2017 | Gallery Books | Beach House #4
New York Times bestselling author Mary Alice Monroe returns to her beloved Isle of Palms to tell the poignant, charming story of two women, one summer, and one very special beach house.
When Cara Rutledge rents out her quaint beach house on Isle of Palms to Heather Wyatt for the entire summer, it's a win-win by any standard: Cara's generating income necessary to keep husband Brett's ecotourism boat business afloat, and anxiety-prone Heather, an young artist who's been given a commission to paint birds on postage stamps, has a quiet space in which to work and tend to her pet canaries uninterrupted.
It isn't long, however, before both women's idyllic summers are altered irrevocably: the alluring shorebirds—and the man who rescues them—begin to draw Heather out of the shell she's cultivated toward a world of adventure, and maybe even love; at the same time, Cara's life reels with sudden tragedy, and she wishes only to return to the beach house that had once been her port amidst life's storms. When Heather refuses to budge from her newfound sanctuary, so begins the unlikeliest of rooming situations. While they start out as strangers, as everything around the women falls apart they learn that the only thing they can really rely on is each other.
And, like the migrating shorebirds that come to the island for the summer, these two women of different generations must rediscover their unique strengths so by summer's end they, too, can take flight in ways they never imagined possible.