Beard in Mind by Penny Reid is the fourth story in her Winston brothers series, about a rural Tennessee family of six brothers and a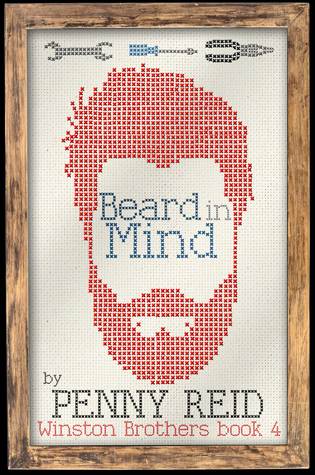 sister. Beau and Duane Winston are twins, and Duane got his story in Truth or Beard. It's Beau's turn now, and who better to turn his crank than the standoffish, smart and very talented new female mechanic Shelly Sullivan.
Shelly has a secret. Her life is ruled by obsessive compulsive disorder, a mental illness that is different for each person who suffers from it, but one that Shelly is determined to get under control. Her own response to it includes self harm but with the help of a therapist that she sees regularly she's gotten that under control. She's kept her diagnosis from her family, and while her brother Quinn helped her get the job, she knows that she will need to face up to some events in their past that directly affected him. She yearns to be better, but knows it will take hard work, dedication and self acceptance to improve her circumstances. Her illness makes her appear cold and unfeeling (and sometimes just plain weird) to those around her, so unless they are willing to dig deeper, she'll remain a mystery to them.
Beau senses there is more to Shelly than meets the eye, though at first he can't understand why his brother Cletus hired Shelly in the first place. She's rude to the customers, she speaks her mind (if she speaks at all) and she doesn't seem to care about anything except doing her job and doing it well. Beau's easy going attitude and friendly disposition don't seem to make any impact on Shelly at all. But he can't deny that there's a spark of sexual attraction between them. When the truth is revealed, will it keep him away or make him even more determined to discover more about the woman who fascinates and intrigues him?
With her characteristically quirky style, Penny Reid tackles a serious subject and manages to convey its challenges while still providing the reader with the reality that everyone deserves a happy ending. Beau comes from a very tight knit family and Shelly's isolation is somewhat of a mystery to him. To his credit Beau is not scared off by Shelly's problems but works towards making her comfortable around him and gaining her trust. He's the ultimate good guy hero with a heart of gold, always willing to do what he can to care for others, though sometimes at his own expense. There are several family scenes, and some surprising family secrets that propel the story forward even as Beau's relationship with Shelly is heating up (and giving us some steamy love scenes too!).
Shelly wants to be a partner to Beau, not a project, and helps him see that their relationship will only flourish if they both learn to lean on each other. I admired her courage in facing her illness and in sharing it with Beau, and trying to right some wrongs from her past. There aren't many authors that would tackle a subject matter like this, so kudos to the author for bringing it forward In an honest light. I loved every moment of this thoughtful, sometimes heartbreaking, but ultimately hope-filled romance.
Book Info:

Publication: Aug 01, 2017 | Cipher-Naught | Winston Brothers #4
All's fair in love and auto maintenance.
Beau Winston is the nicest, most accommodating guy in the world. Usually.
Handsome as the devil and twice as charismatic, Beau lives a charmed life as everyone's favorite Winston Brother. But since his twin decided to leave town, and his other brother hired a stunning human-porcupine hybrid as a replacement mechanic for their auto shop, Beau Winston's charmed life has gone to hell in a handbasket.
Shelly Sullivan is not nice and is never accommodating. Ever.
She mumbles to herself, but won't respond when asked a question. She glares at everyone, especially babies. She won't shake hands with or touch another person, but has no problems cuddling with a dog. And her damn parrot speaks only in curse words.
Beau wants her gone. He wants her out of his auto shop, out of Tennessee, and out of his life.
The only problem is, learning why this porcupine wears her coat of spikes opens a Pandora's box of complexity—exquisite, tempting, heartbreaking complexity—and Beau Winston soon discovers being nice and accommodating might mean missing out on what matters most.