In Bearly In Control by Milly Taiden, vet/animal whisperer Charli Avers is called in to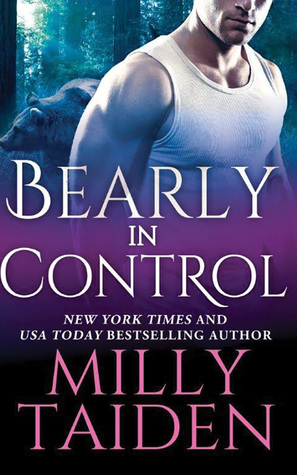 take care of bear, who she discovers is a shifter with amnesia. He doesn't know his name, where he came from, or that he even was a shifter. When it looks like he may have been involved in a rash of robberies, Charli and her investigative team need to discover the truth.
I have read books by Milly before and have enjoyed most of them, but I didn't like this one. I felt the characters lacked depth and, at times, common sense. For example, members of the group kept smelling a cat. Not once did they stop to think that the cat might possibly be a clue. At one point Charli finds Barry hiding bags filled with money, yet she insists he couldn't be involved with the robberies. Then a police officer was investigating an attack and it was Barry who had to point out to her what to look at.
Hey, Tamara," Barry called from behind the SUV, "would a bullet still embedded in the door work for forensics testing to match the gun marks?"
The woman joined Barry to see what they had. The lift gate had a deep dent in which the bullet looked wedged.
"Looks like it's not damaged that much. We could probably use it."
One, the cops should have noticed the bullet when they first looked at the car at the crime scene. Two, they could probably use it? Of course they should be able to use it. For a group that's supposed to be made of up of cops and investigators, no one seemed to know what was going on.
There's also the fact Barry, who is named by Charli because he doesn't know his own name, doesn't know anything. He can't explain why he's hiding money. He can't explain how he got to the area he was at. Not only could he not explain it, it's never explained to the readers. It felt like this is a storyline that's going to continue into future books, but it would have been nice to have had some idea of what was going on with him and why he zoned out at times.
Some of the humor and situations in the book were over-the-top and cheesy at times.
The grill's lid squeaked as if someone was lifting it. She whipped her head around to see a hand with a pair of tongs slide through the narrow opening to the meat.
She whispered loudly. "What the hell are you doing? You're gonna get shot."
He flipped both pieces of red meat. "These steaks are too good to let burn. And I'm starving." Another bullet ricocheted off the grill.
Who grills when they're being shot at? Apparently Barry.
Or this, when a group of birds came to the pair's aide.
Barry grinned. "It sounds like all those birds are dropping bowel bombs on him. He's pissed as hell."
Bowel bombs? "You mean they are all pooping on him?"
He laughed and nodded. She was flabbergasted. How did they know to do that?"==
There's also a lot of butt jokes after Barry gets shot in butt. I found it to be a bit much and a little off-putting.
Charli, Devin, Russel, and Milkan are part of an investigation unit, but it's never really explained what they did or why they were formed. The robbery case was their first as a unit. Charli, having no investigation experience, kept referring to the fact she hasn't received training. Still the director, Milkan, feels like she can handle Barry on her own. In fact, the group gives her very little support when it comes to dealing with him. One would think they would be more concerned about her spending so much time alone with a suspicious bear who doesn't know who he was.
This book failed in many areas for me, and I found myself disappointed. It definitely didn't make me look forward to future books. If the characters are as one dimensional as they are in this one, I probably won't continue with this series.
Book Info:

Publication: December 13, 2016 | Montlake Romance | Shifter Undercover #1
For vet and animal whisperer Charli Avers, talking to bears is all in a day's work. But when she finds a man—a very sexy, very alpha man—where a bear ought to be, the wild comes close to home. Charli is drawn to this mysterious stranger. She wants to help him piece together the past he can't remember—even if that means shedding her human misgivings and embracing her more carnal desires.
After shifting from bear to man, Barry believes he's finally found his mate. Now he just needs to find himself. He doesn't know much about the animal within him, but his human heart aches for Charli. She ignites his instincts to protect her from all danger—including their electric attraction.
The stakes climb as Charli investigates the mystery behind Barry's memory loss and how it may relate to strange sightings and thefts in this little corner of Oregon. Without answers, she may lose Barry—and herself—to the wild side forever.