Beautiful Mess by Kasey Lane: Back in her law school days, Jami was on her way to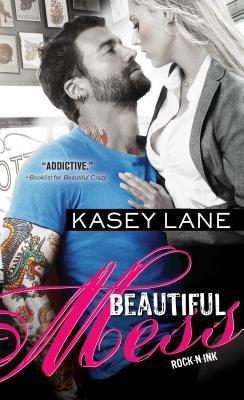 falling completely for Jackson Paige, that is, until he walked out of her life without a word. The last thing she expects is to come upon him tattooing her brother.
Jax, artist and drummer for the up and coming band Manix Curse, has never forgotten the woman he walked out on. And now that she's back in his life he knows this time he'll never let her go, she just has to give him the chance to prove himself.
Faced with parents and a past that have taught her not to step a toe out of line, Jami doesn't believe she can, or even should, break free from her constraints, no matter how much she still desires and wants Jax. But he might just show her the true meaning of love and a life without regrets.
"That's where you're wrong. We aren't done." He pressed his face to her throat. Her breath hitched as he ran the bridge of his nose up her neck and bit her earlobe.
I generally don't like second chance romances, but I enjoyed the idea Lane had with Beautiful Mess. I definitely enjoyed this new community made up of those involved in Manix Curse creating a new family for Jami, and showing her how to be herself and to not listen to a pair of truly horrendous parents.
That said, I just wasn't very interested in Jax or Jami. Jamie I found a bit too boring and Jax halfway through grew an anger problem and it just didn't make sense. They are not a couple I would imagine together and happily ever after. I felt at heart, even as Jami has grown, they're just too different.
Overall, I liked bits and pieces of this story, but the romance itself didn't work for me. The second in the Rock'n'Ink series, Beautiful Mess can be read as a standalone, but then you'll miss out on the cuteness of Kevan and Mason in Beautiful Crazy. But for those who enjoy artists of any form, I recommend Lane's series.
Book Info:

Publication: March 7, 2017 | Sourcebooks Casablanca | Rock'n'Ink
Hell's bells.
Jackson Paige was, in fact, Jax Pain, the drummer of Manix Curse.
That thing in Jami's chest tightened, making it hard to breathe.
When attorney Jami Dillon strides into the conference room to meet her new client, she's stopped in her tracks by an all-too familiar figure. Jackson Paige. He's her tall, tattooed, and sexy as hell hook up from law school-who also broke her heart.
Jackson Paige, aka Jax Pain, has worked hard to put that unfor-frickin-gettable fling behind him and the nasty secret that made him leave her. Truth is, life as the playboy drummer of Portland's hottest metal band hasn't helped him to forget the fiery, sexy woman who stole his heart. Lucky for him, Jami was just hired as his band's new attorney. But when he sees the look on her face when she realizes who her new client is, Jax wonders if maybe being this close to her again isn't such a great idea. The explosive chemistry is there, but so are the dark secrets…