Because I Love You by Jeannie Moon: Leah Bayard, a lawyer, meets Tristan Ward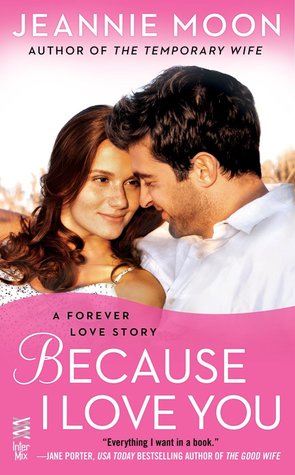 immediately after having a fight with her brother and new sister-in-law. The sparks fly, and they immediately get involved. Neither one wants a relationship–they agree to friends with benefits–but both of them quickly realize that isn't enough for them.
I enjoyed this book. Leah is a strong woman, but she's also very stubborn. There were times I felt she could have been a little more flexible, which would have solved some of the problems between her and Tristan. She's also keeping a secret about her last relationship from all of her family, except for her sister, Amy, because she doesn't want them to think poorly of her choices. It was nice to see her break down her walls enough to confide in Tristan about what had happened that had hardened her towards relationships.
Tristan is a very patient man. Through all of Leah's stubbornness, he lets her vent, lets her get upset, and for the most part doesn't get upset back. He lets things settle and then tries to work them out.
"I wouldn't be able to forgive myself if I let you go and didn't try to fix it. I'm not ready to give you up. I don't know if I ever will be."
Silence fell between them. He couldn't believe he'd said that to her, and, based on the stunned expression on her face, she couldn't either. He'd pretty much just declared he was in love with her.
Besides the romance, there's also some mystery as to who is trying to sabotage Reliance's IPO approval with the SCE. It adds a little tension to the story. I did feel like this aspect of the story left some unanswered questions. I would have liked to have known the outcome of the IPO approval and what happened to the people who tried to sabotage them, neither of which were covered.
This is the 6th book in the series. While it can be read as a stand alone, I would recommend reading the other books first, especially The Boyfriend List, which features Leah's brother Nate and his wife, Jenna. There is tension throughout this book, especially between Leah and Nate, as well as Nate and one of his business partners, Owen, in regards to his relationship with Jenna. The actions of Leah and Owen, which upset Nate, are referred to in The Boyfriend List and this book deals with the aftermath rather than what actually happened. If you haven't read The Boyfriend List, you may feel a little lost as to what caused the tension. Other characters from the other books also make appearances in this one.
With Because I Love You, Jeannie Moon has crafted a sweet story with romance, a little bit of mystery and drama, along with a lot of enjoyable characters. It's about learning to let go, to break down walls, to be flexible, and trusting someone enough to confide their secrets to. This is my second book by Jeannie Moon–I had previously read The Boyfriend List–and I'm looking forward to reading more of her work in the future. I recommend giving it a read.
Book Info:

Publication: November 17, 2015 | InterMix | Forever Love #6
Leah Bayard doesn't have time for a relationship. She's an up and coming securities attorney with one thing on her mind: her career. But when she meets Tristan Ward, the gorgeous new British CFO for her brother's tech startup, Reliance Software, Leah decides she might have a little time in her schedule for a friends-with-benefits relationship. No strings attached, of course.
As things heat up between them, Leah gets a career changing ultimatum from her boss. He's had it out for Tristan for years, and now he wants Leah to get inside information to help out a friend who's investigating Reliance's IPO. If she doesn't help, Leah can say goodbye to not only her job, but her reputation. Now, she has to make a decision that will change the course of her life: hold on to the first real relationship she's ever had with a man she's come to love, or give all that up to pursue the career of her dreams.