Becoming Bella (Ghost Falls #2) by Sarah Hegger is a sweet, funny, suspense filled story that will keep the reader on the edge of their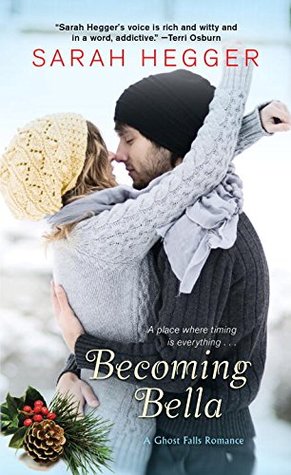 seat, will make them laugh at the crazy antics of Phi, Bella, Pippa, and Liz, make you fall in love with the HOT Evans Brothers. This is the remarkable story of Bella and Nate.
Bella Erikson is the Ghost Falls sweetheart. She has also had a not so secret crush on Sheriff Nate Evans ever since he dipped her braids in purple paint when they were in first grade. The entire town knows about her pining away for the good Sheriff and Bella has had enough. It is Christmas after all, time for new beginning, time to get over her crush and show the town and Nate that she is not the pathetic wallflower that the town thinks she is.
Nate Evans has known about Bella crush forever. He may be a little sweet on her too, but he would never do anything about that, see he knows that he has a dark past and that he is nowhere near good enough for Bella. He has a fear of crushing her spirit, hurting her, so he keeps it light, keeps it friendly, but would never cross the line to something more.
When Bella's path to the "New Bella" sets her on a collision course with a stalker, Nate will have to put he fears aside to keep Bella safe. But when Bella is taken, and Nate is in a race against the clock to get her back, he realizes that without her in his life, his heart does not beat, without her light and love, he is nothing.
What I truly loved about this book is that the element of suspense made this story even more amazing. I love these characters and Nate and Bella are the perfect match for each other. Despite all of the feelings of unworthiness that Nate has about himself, he is the perfect person for Bella. And you can see that early on in the story that Nate was beginning to come around and realized that this thing with Bella was bigger than casual. That his feelings for her were bigger than his attempt to push them aside. He was scared. And that makes him an even better hero for this story.
Bella was just so sweet and honest and a real people pleasier, the way that she and her neighbor Liz struck up a friendship, they were the two most polar opposite people in the world, but their friendship and the way that they were both there for each other, was amazing. By the end of this story I was cheering, crying, laughing and sighing. I cannot wait to see which Evans brother falls next, or will it be little sister Jo-Jo? I guess time will only tell.

Book Info:

Publication: September 26th 2017 | Zebra | Ghost Falls #2
This Christmas, a good reputation can really get in a girl's way . . .
As long as she can remember, Bella Erikson's been the unofficial sweetheart of Ghost Falls, Utah. And ever since Nate Evans dipped her braids in purple paint in the first grade, he's been her dream guy. Not that she minds the attention, but sometimes she wishes people saw more in her than just the girl who still has a crush on Sheriff Evans. She has a life after all, a new bridal shop to run, and more mature relationships to pursue . . .
Nate knows he's not good enough for sweet Bella. But he's pretty sure the new guy sending her heart emojis and giant bouquets isn't either. And when Bella's suitor turns stalker, protecting Bella isn't just Nate's instinct—it's his duty. Crammed together for safety and really talking for the first time in years, Bella and Nate can't fight the moment their chemistry turns into pyrotechnics. Whether it will burn them out or light up the sky, only time will tell . . .