In Being Brooke by Emma Hart, Brooke Barker has been in love with her best friend, Cain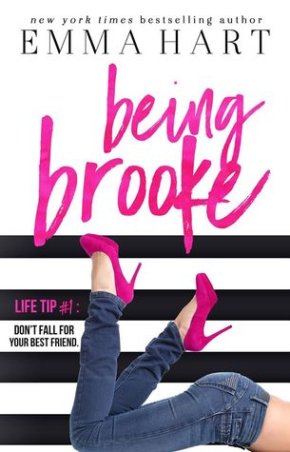 Elliot for years. Her family knows it. His family knows it. Their mutual best friend Carly knows it. The only one who doesn't seem to know it is Cain. Now Brooke has to stand back and watch as he dates Nina, a woman who's pushing for him to move in with her. And a woman who hates Brooke and jealous of Brooke and Caine's friendship.
Each chapter begins with a Life Tip which correlates to what happens in the chapter. For example, "Life Tip #13: If your dirty-minded grandpa wants to online date, don't let him do it unsupervised" was a chapter involving Brooke's grandfather and his quest to set up an online dating profile.
"Should I write a dirty joke or two in this section, boy?" Grandpa asks, grasping the arm of his glasses and leaning towards the screen. "I don't want any of these prudes hitting on me."
"The first line of your bio is expressing your love for jokes and the dirtier the better," Cain says. "I'm really not sure you're going to attract any…prudes."
"Get out of here. Look at me. I'm dang handsome, me. I'm gonna attract 'em all. Even the whippersnappers."
Yep. No. This is not a good idea. Not at all.
I liked seeing how each life tip ended up corresponding with what was taking place.
The progression of Brooke and Cain's relationship was believable and it was enjoyable to watch them realize that they both had feelings for one another. I also enjoyed watching Brooke's progression as she went from someone floundering with what to do with her life to discovering what her passion was and what she wanted to do.
There are plenty of laugh-out-loud moments in this book. The characters are well-written, quirky, and entertaining. I will put a disclaimer that there is a bit of swearing in the book, since I know some people don't enjoy that. For those that don't mind it, I highly recommend this friends-to-lovers romantic comedy.

Book Info:

Publication: December 13, 2016 | Smashwords Edition |
My name is Brooke Barker…
And I'm a freaking disaster.
No, seriously. I'm a college drop-out working a dead-end job, my best friend Carly's dog gets more action than I do, and I have more bad dates in my diary than there are movie remakes.
Not to mention I'm completely and utterly in love with Cain Elliott.
The problem? He's in a relationship. With a girl who's so plastic she makes Barbie cry herself to sleep with jealousy.
The second problem? He's my best friend.
My shut-up-and-put-on-Harry-Potter, yes-this-is-your-shirt, help-I-have-no-power, crap-I'm-out-of-tampons, kinda best friend.
And that's all he can be, right?
Right.