Belle by Sarah Price (An Amish Retelling of Beauty and the Beast) was so heartwarming and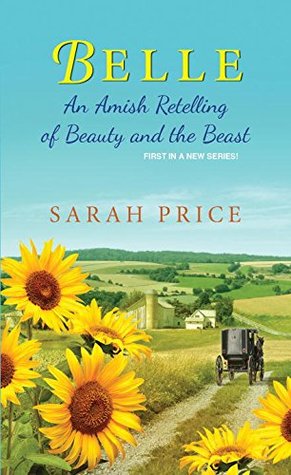 charming that I stayed up a good part of the night reading! I could not put it down! Sarah Price is a talented storyteller to be able to weave an Amish novel that is a twist on the classic fairy tale Beauty and the Beast.
I love Amish novels and I love Beauty and the Beast so this novel is a winning combination! When Belle reluctantly agrees to marry loner Adam Hershberger, so that her widowed father and her sisters can keep the family farm, she knows very little about Adam. Only that he is reclusive, and that he bears scars from childhood burns that cause people to be fearful of him or mock him.
These actions by her fellow Amish trouble her, and they trouble her even more so as she gradually learns the many kind traits of her new husband. He is quite fearful of rejection and is quite slow to show his true self to Belle, though he already loves her deeply. Her close friends and her sisters all question her marriage to Adam, though her close friend Ella does start seeing his kindness.
To see how Belle and Adam open up to each other is beautiful and inspiring. I wholeheartedly recommend Belle to fellow readers!

Book Info:

Publication: October 31, 2017 | Zebra |

To most townsfolk, he's known simply as The Beast. Annabelle Beiler has little interest in gossip, but she's heard about Adam Herschberger's scars and his gruff, solitary ways. Though he sounds like a character from one of Belle's treasured books, the man is real and, it turns out, just as unreasonable as the rumors claim. When a buggy accident wipes out the last of her daed's money, forcing him to sell their farm, Adam buys it. Then he offers Belle a deal–marry him, and her family can keep their home.
Everyone is shocked by Belle's decision, but she's determined to be a good fraa, cleaning Adam's rundown house and tending the overgrown garden. Breaking through her new husband's icy reserve will be another matter. Belle's courage and strength are abundant, but it will take true faith to guide Adam back to the heart of his Amish community–and to the loving marriage they both deserve.