Betting on Paradise (Seven Brides for Seven Cowboys #4) by Lizbeth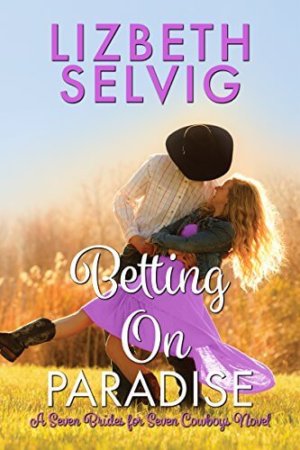 Selvig is yet another amazing addition to the Seven Brides for Seven Cowboys series. I have loved this series since book one. I love the feisty sisters, the crazy and wonderful family that is the Crocketts. I have started feeling like a member of this big beautiful family. This is the beautiful story of Grace and Ty.
Grace Crockett is one of the triplets . She is the people pleaser, the one that avoids conflict, the one that follows the leader, or in her case, the other two triplets. But Grace has dreams and as much as she loves her siblings, and what they have built at Triple Bean, she wants to break out on her own, When her sisters don't understand, she gets a call from home, she is needed to come and help her older sister Mia. This is the space that Grace needs to figure out how to make her dreams a reality, but what she was not dreaming of was the tall, dark and oh so handsome Ty Garraway invading her thoughts, her dreams and stepping up to help make her a success.
Ty Garroway is a gambler, poker is his pleasure, until an ex shows up at the door with his daughter in tow. Now Ty wants nothing more than to give Teagan (Lucky) a stable home that she can be proud of. Even if that stable home comes at the cost of fighting the Crocketts for land that he has proof was stolen from his family in an illegal poker game. What Ty does not count on was getting a job with the Crocketts, finding out that they are warm, welcoming, honest and loving. And he did not intend on getting close to Grace, but the more he is around her, the more he wants her. The more he wants her sweetness and light.
When Ty's plans come to light, the entire Crockett family is ready to fight, everyone but Grace. She has a feeling that things are not as they seem. It will take Grace and her belief in the man that Ty is to convince her family to look beyond the land and give Ty a chance. And in the end, these two just might find a beautiful HEA in the process.
I truly fell in love with Grace and Ty. Grace is not your typical pushover. She has morals, she has a plan for her future, and what was so refreshing is that Ty was actually very okay with Grace and how far she was willing to take their relationship. I have to say that it was a testament to Ty and he feelings for Grace that he did not try to pressure her. His daughter Lucky was funny and sweet, adding light and humor to the story. I loved that Ty taught her how to spit, how to play poker, but also enforced that she not play for anything more than gum and buttons. It is again, a show of just how much love he had for his daughter.
This amazing story is about finding your inner strength, fighting for what you believe in, standing up for your hopes and dreams, and the love and support of family and friends. In the end, Ty and Grace truly do get a beautiful, heart warming HEA. I can't wait to see which sister falls next.

Book Info:

Published March 28th 2017 | Webster Publishing | Seven Brides for Seven Cowboys #4
Welcome to Paradise Ranch
The Good Girl wants to spread her wings …
From birth Grace Crockett has been part of an unbroken set: one-in a million identical triplets. Twenty-six years later, however, feeling unappreciated in her role as part owner of a successful Denver restaurant, Grace longs to break away and fulfill her own dreams. But to do so she must learn to trust in her own judgment.
The Gambler wants what's owed to him …
Small-time poker player Ty Garraway is determined to break his family's legacy of abuse and abandonment, and give his young daughter a hope for the future he's never had. But that means taking on the Crocketts—one of the most powerful ranching families in Wyoming—and taking back a part of Paradise Ranch stolen from his family eighty years ago in a poker game he believes was rigged.
Can they bet it all … and defy the odds?
Grace's relentless honesty and devotion to family—not to mention the way she turns him on—has Ty thinking too much with his heart. Ty's passionate love for his daughter and his encouragement of Grace's half-baked ideas—not to mention his knee-weakening kisses—has Grace wondering if she's found her unlikely match in a rough-around-the-edges cowboy. But when Ty's plans are exposed, can Grace forgive the liar who manipulated her and her family and forgive herself for being duped?
Love has raised the stakes, requiring Ty to bet everything he has to win Grace and his future, but will it be enough?