Between a Wolf and a Hard Place by Terry Spear is the twenty-first book in the Heart of the Wolf series, but can be read as a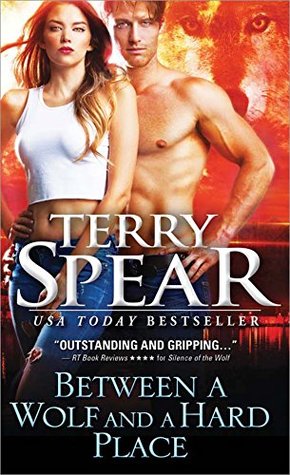 standalone. In it, Brett Silver has been having dreams about Ellie MacTire and believes they're mating dreams. Ellie has been having the same dreams about Brett, but she doesn't want to admit it to him, as she would also have to reveal her other secret: she sees and communicates with ghosts.
The inn Ellie is starting up with her two sisters is haunted by a ghost named Chrissy. But when Brett and his brothers donate his great aunt's piano to the inn, another ghost shows up. When Ellie and her sisters determine their new visitor is Brett's great-aunt Matilda, they begin to question whether her death was from pneumonia as originally believed, or from something more sinister.
I liked Ellie and Brett together. They were fun and playful, as were their families. When Brett suggests Ellie date other pack members to convince her they were mates, Ellie takes him up on it. Her dates end up being supervised by not only Brett but by his brothers and cousins as well, which amuses her. Ellie also has entertaining interactions with the ghosts as well.
"But whoever the ghost is, she wasn't happy that I was kissing Brett or that he was kissing me."
Meghan's jaw dropped. Then she said, "No."
"Yes. She tsked at me in a disagreeable way."
Meghan smiled.
"It's not funny. The last thing we need is a Victorian chaperone haunting the place. See how you feel if you're kissing some guy and you have a disapproving ghost looking on and making annoyed sounds of disapproval."
There's also a secondary ghost story involving Ellie's cousins who host a television show about hauntings and are in the area to investigate a car that drives itself. Ellie and Brett manage to get involved in their haunting, too.
This book has humor, mystery, and romance. If you enjoy paranormal stories featuring wolves and ghosts, I recommend giving this book a read.
Book Info:

Publication: April 4, 2017 | Sourcebooks Casablanca | Heart of the Wolf #21
In Silver Town, the secrets run deep…
Alpha werewolf Brett Silver has an ulterior motive when he donates a prized family heirloom to the Silver Town hotel. Ellie MacTire owns the place with her sisters, and he's out to get her attention.
Ellie is even more special than Brett knows. She's a wolf-shifter with a unique ability to commune with the dead. Ellie has been ostracized, so she protects herself and those she loves by revealing nothing-not even when strange and dangerous things begin to happen in Silver Town. And especially not to the devastatingly handsome and generous wolf who's determined to win her over…