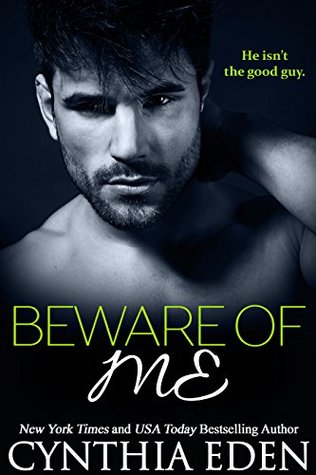 In Beware of Me (Dark Obsession #4) by Cynthia Eden, Ethan Barclay knows that even criminals like himself all probably have that one person that they would do absolutely anything for. Carly Shay is the only woman he has ever truly loved, but he knows he will never have her. It's best, and definitely safest, for them both if they remain apart. But now Ethan has learned that Carly's life is at stake and he intends to get her to safety. Hopefully he won't lose his life, or his heart, in the process.
'Hell, yes, he'd had to send her away. She'd deserved a life. A good one. Not some criminal bastard like him.'
Carly has spent years recovering from her terrifying past and feels like she's finally on the level. Unfortunately, her past comes to the forefront and she has to start watching her back again. So when Ethan shows up at the same time, Carly isn't sure if she can trust him. He did abandon her years ago, after all. As clues begin to point to someone else as the mastermind behind the threats, Carly and Ethan grow closer than ever, leaving her confused, and wanting to savor every minute they have together.
"You don't control me, Ethan. If I want to help you, I will. If I want to face my own demons, I will. You won't stop me."
Dark and dangerous but with plenty of desire ruling our character's emotions, Beware of Me was a thrill-a-minute novel that had me on the edge of my seat.
Romantic suspense can be a tricky genre to get the balance just so in a story. But Cynthia Eden did a great job here of matching the amount of tender, romantic moments with all of the grisly action scenes. I will warn that this may be a bit graphic for some in regard to the fight scenes. They are quite detailed and might make you cringe, but I thought they were perfectly written for our character's situation. Plus it had the gritty edge that crime boss Ethan gave off.
Speaking of which, Ethan was quite the enigma. He could definitely be cold and calculating when it was warranted, but his whole demeanor changed when it came to Carly. I loved that. He would literally kill to keep her safe and didn't care about his own safety in the process. Carly was a pretty tough cookie herself. She had been to hell and back and was still standing strong. I loved her bravery and how she kept trying to do the right thing. And the combination of Ethan and Carly? Whew…major fireworks. Expect some very steamy love scenes that have a wonderfully tender side to them.
If you like romantic suspense with not only pulse-pounding action but also with sweet devotion, Beware of Me is an excellent choice. Whether you read this as a standalone or as part of the Dark Obsession series, I think the twisting and turning plot will definitely hold your attention.
Book Info:

Published July 28th 2015 | by Hocus Pocus Publishing, Inc. | Dark Obsession #4
Walk on the wild side with New York Times and USA Today best-selling author Cynthia Eden's dark new romantic suspense, BEWARE OF ME.
Criminal. Killer. Monster. Ethan Barclay has been called many things in life, and he usually doesn't care what people say about him. He's tough, hard, and brutal when he needs to be. But even the most dangerous of men can have a weakness. Ethan's weakness has–and always will be–Carly Shay.
Their pasts are tied together–twisted and melded by blood and death. Walking away from Carly was the hardest thing that Ethan ever did, but it was also his one good deed. He knew Carly deserved far better than him, and he wanted her to have a perfect life, a life that didn't involve paying for Ethan's sins.
Only now the secrets from their past have been revealed, and Carly's life is on the line. Ethan's enemies, Carly's enemies–the predators are closing in on them. But Ethan isn't going to let Carly be threatened. He will move heaven and hell to protect her. He won't lose Carly, not again, and for those foolish enough to try and take her from him…they are about to see just how deadly Ethan truly can be.
Author's Note: BEWARE OF ME is a complete, stand-alone story. All of the books in the Dark Obsession series are stand-alone titles.
Dark Obsession Series:
WATCH ME – Book 1
WANT ME – Book 2
NEED ME – Book 3
BEWARE OF ME – Book 4