Big Package by Opal Carew has a couple humorous moments that will put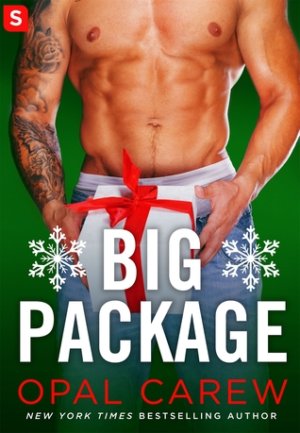 on a smirk on your face, along with a few sweet moments that will make you sigh.
The story starts off with Holly needing to catch the bus to get to her sister's house for Christmas. Her ex-boyfriend is the one dropping her off, but before she leaves, he gives her a big package. The bus thing doesn't work out but don't despair, because she runs into Kalen, who offers her a ride.
Kalen is Holly's dream man. They went to the same high school but ran in different circles, and it didn't help that Holly was overweight. He had cheerleaders throwing themselves at him all the time and Holly thinks Kalen would have never gone for a girl like her. Turns out Kalen just wanted a girlfriend, one who didn't want to use him for the size of his package, and one he could really be with. Now that Kalen and Holly are stuck in a blizzard, he has the chance to show her how much he likes her.
"Well, you've already had one big package thrust on you today. What I've got might be a little larger than what you're used to."
Kalen is used to rejection. Apparently, women will flirt with him and try to take it further but when Kalen's pants come off and they see the size of his member, they bail. This is certainly different from other books I've read. Most women love a big package but evidently Kalen's is just too big.
There is some drama with Kalen and his ex-girlfriend. I feel like this part of the story should have been avoided. It didn't really add to the story, other than giving Kalen and Holly a bump in the road, so to speak. Overall, this was an okay read. I liked that this was a quick read with characters who have an instant attraction to each other, and their feelings for each other aren't drawn out. If you want to read a semi-funny Christmas novella, this is for you.

Book Info:

Publication: October 25th 2016 | Swerve |
Baby it's cold outside…but things are about to heat up.
I missed the last bus to my sister's for Christmas, and now I'm stranded in a bus station—in the middle of a blizzard—with a giant package covered in naughty wrapping paper.
Then he shows up: Kalen Welles, the football star from my high school fantasies—and offers me a ride.
Just when the car is getting cozy, the roads get shut down due to snow.
Luckily there's a nearby cabin where we can hole up for the night.
A warm fireplace, cozy blankets, pent-up longing we both spent years ignoring… maybe I'll be able to unwrap Kalen's big package before Christmas morning.
But when the snow clears and the ice melts, will the former football star and the shy nerd finally get a happy ending?
Unwrap this sexy holiday story from Opal Carew!