Billionaire's Baby Bind by Katherine Garbera: A "mad man" on the loose threatening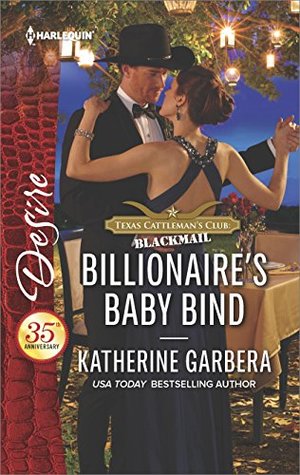 and releasing secrets. A tech guru brought in. When he meets a young horse master he just knows something is going to change.
Amberley Holbrook didn't want anything to do with city slickers. She was much better off with animals and no person could beat her horses. Yet she had a job to do and it included helping this city slicker enjoy his time in Texas. So why was it he tongue tied her more than most, until she started talking and then everything came out.
Will Brady was done with women. His focus was work and his little girl. Those were his passions in life. So he didn't blink an eye when he needed to come down to Texas to help catch a "mad man." So why was he starting to feel things when he looked at the woman holding his horse?
Amberly and Will were feeling something, but neither one were ready to deal with those feelings. But when they become so overwhelming how will they deal with that? Not to mention there is still a mad man on the loose.
Royal Texas is a hotbed of intrigue and Ms. Garbera has added a twist to the Maverick saga. So amazing are Ms. Garbera's characters that she has actually created questions about some of the secondary players and what roles they might have in the next books. She has continued this story and played into the setting that others have helped created so well. This is a story you are not going to want to put down. Hero's and heroines going through some really deep issues in a real way to find out things can be what you make of them.

Book Info:

Publication: October 1st 2017 | Harlequin Desire | Texas Cattleman's Club: Blackmail #10
This billionaire dad is pure temptation…from USA TODAY bestselling author Katherine Garbera No way is cowgirl Amberley Holbrook falling for a billionaire city slicker like Will Brady. He's only in Texas temporarily and he's a single father to a baby girl–two reasons she should stay away. If only the widower wasn't so…irresistible. In town to investigate trouble at the Texas Cattleman's Club, Will soon finds himself examining his attraction to the feisty beauty, too. Sure, Amberley might be the perfect distraction, but is Will ready for more?