In Bite Me (Pride #9) by Shelly Laurenston, Livy Kowalski is a honey badger shifter with no shortage of attitude. Raised by a family of thieves who pull off some very impressive heists worldwide, Livy has gone her own way by becoming a photographer. Not to say she doesn't have the same skill set as the rest of herfamily. She just doesn't put it to use very often. Well, except for when she needs refuge and finds her way into Vic Barinov's house.
"What are you doing?" Vic demanded. "Why do you keep breaking into my house?"
"As much as I protect you from these pathetic females, you'd think you'd appreciate my presence."
"I don't." He frowned. "And why are you always naked when I find you?" Vic folded his arms over his chest. "Tell me you didn't eat your way into my house again."
"Of course not." Livy licked honey off her thumb. "I burrowed my way into your house. There's a difference."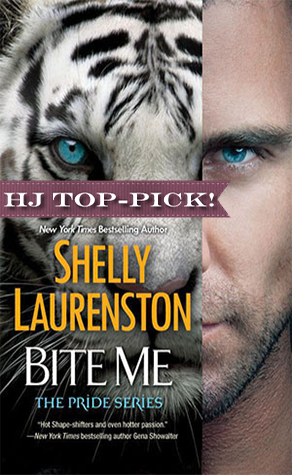 Livy is thrown back into her family's world when her father passes away. With so many unanswered questions about his death and the events leading up to it, she relies on Vic and his friend Shen Li to get more intel with their vast connections. During the process, Livy fights with her cousins, ticks off her aunts, gets threatened by bears, jousts against felines at a renaissance faire, and winds up falling in love with Vic. Oddly, falling in love was the surprise for Livy…the rest is just a normal day in the life of a honey badger.
She sighed as if she'd realized the worst thing imaginable. "We're going to be together and in love forever, aren't we?"
"Probably."
"That's so fucking typical of my life," she spat out. "I can never get a break."
"I'm sorry."
"No, you're not."
"No, I'm not." Vic leaned down and pressed his forehead against Livy's. "Can you say it again?"
Victor Barinov is a laid back bear-tiger shifter originally from Russia. He grew up with parents who worked as spies and has worked in that field himself, but is now helping out different organizations that advocate for shifters and their safety. Now back at his home in the states, he keeps running into Livy Kowalski. Or, to be more accurate, he keeps coming home to her hiding in his kitchen cabinets eating all his honey. Naked. Which he doesn't necessarily mind. So as he gets pulled into the drama that surrounds Livy's life, and family, Vic's feelings for her change from that of friendly to red hot rather quickly. He can't think of a more unlikely pair than a honey badger and a tiger-bear hybrid…but it might just be crazy enough to work.
'Vic had always found Livy…unusual. Cute. Really hot, when she wasn't ripping a lion's scalp off. But definitely unusual.'
Bite Me is the hilarious ninth book in Shelly Laurenston's Pride series. If you're already a fan of the series, you've probably been waiting for Livy's turn, like I have. Not only do we have the chance here to get up close and personal with the snarky honey badger herself, but we also learn more about the sexy and lovable bear-tiger hybrid, Vic Barinov.
It's pretty tough to explain the world that the Pride series takes place in if you haven't read any of these fabulous books yet. It kind of sounds like you're mentally deranged: "So, there's this honey badger shifter who is a photographer for a sports arena that caters only to shifter athletes…and her best friend is a jackal, who is her natural enemy in the wild, but not so much in the shifter world…then the honey badger falls for a tiger-bear hybrid who's parents are Russian spies." See what I mean? But when you're in the middle of reading the story, it somehow makes perfect sense. Ms Laurenston's books are always entertaining, extremely sexy, and have a lot of action & excitement packed in as well. I think you could probably get away with reading this as a standalone, but there's a lot going on and numerous characters, so you might find it easier to start from the beginning.
I love, love, LOVE Livy! She's so tough, mainly because she's a honey badger, but life has thrown a lot at her and she's learned to just shake it off. She doesn't take things too seriously and has a sharp sarcastic wit that gets her through every situation. She's such a badass that even bears are afraid of her! But what I really loved was that she fell for Vic. She never thought she would ever fall in love, other than with her photography, and Vic blindsided her. They are a ferocious team (pun intended) who are crazy together both in and out of the bedroom. I thought the running joke about their shared love of honey was classic, and then somehow ended up being kinda sexy…
I think fans of quirky paranormal romance will really enjoy Bite Me. There's such a wonderful current of humor in every scene that is just inherent in Shelly's writing style & I for one love it and hope you will as well.
Book Info:

Published March 25th 2014 by Brava | (Pride #9)
Livy Kowalski has no time for idiots. When you shapeshift into a honey badger, getting through life's irritants is a finely honed skill. Until she gets stuck housing her nutso cousin and dealing with her dad's untimely and unexplained demise.
That's where Vic Barinov comes in—or his house does. Vic can't step outside without coming back to find Livy devouring his honey stash and getting the TV remote sticky. It gets his animal instincts all riled up. But he'll have to woo her at high speed: all hell is breaking loose, and Livy is leading the charge…