Black Tie Optional by Ann Marie Walker: Olivia is a humanitarian; she lives for her crusades to save the environment and animals alike. She loves her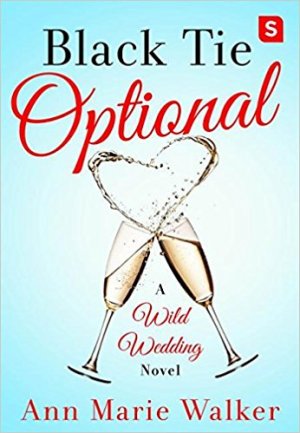 work at a non-profit even if it means trying to convince heartless CEOs like Coleman Grant III to change their business practices. Cole is a sexy playboy who is one of Chicago's most eligible bachelors. He doesn't have the time or inclination for commitment between running the family business, hovering over his feisty sister, and outwitting his cunning, powerful, and manipulative grandma.
Olivia and Cole have an adversarial relationship. Their day starts with a run-in when Cole gets his morning coffee while Olivia tries to persuade him to move the site of a proposed building. Cole is undoubtedly annoyed by Olivia's persistence, but he's also not blind to her looks despite her clothing choices. Cole may be wealthy, arrogant, and have a much larger environmental footprint than necessary, but Olivia isn't immune to him either.
Olivia was looking forward to a much-needed weekend away to Vegas for a friend's wedding and the last person she expected to run into was Cole. When too much drinking leads to a memorable night of finally giving in to their attraction, Cole decides that she's the solution to his problem.
"Are you still drunk?"
He shook his head. "No, although I'm starting to think this would be easier if I was."
"Well, have at it. I'm sure there's a few bottles we didn't open." She turned to leave again, but this time it was Cole's hand on her elbow that stopped her at the door.
Cole's proposal of an arranged marriage is hardly what dreams are made of, but she accepts anyway. They may not be able to have a civil conversation, but their relationship has a time limit. More verbal battles ensue as their opposite lifestyles and expectations clash. Playing the happily married couple also gives them a chance to really get to know each other and maybe enjoy all of those sparks.
"Fidelity. I'm sure it's a foreign concept to you, but it was one of you terms, remember? I believe you referred to it as 'taking myself off the market.'"
Cole's entire body stiffened. "That was meant for you, not me."
"Fake marriage or not, same rules apply." She leveled her stare. "To both of us."
Black Tie Optional is funny and oh so hot! Ann Marie Walker created great chemistry and banter that had me engaged from the first page in this opposites attract romance. Ms. Walker provided a great cast of characters in a new series I'm looking forward to visiting again. Fans of Sawyer Bennett and Carly Phillips will enjoy Black Tie Optional.
Book Info:

Publication: May 30th 2017 | St. Martin's Press | Wild Wedding #1
Everything about Coleman Grant III oozes power and sex. And not the perfunctory kind either, but the sheet clawing, heart stopping, gasping for air after you've screamed so loud you can't breathe kind. From his dark wavy hair that stands in an artfully rumpled mess, to the blue eyes that sear your skin, to his full, sensual lips – on the surface he's pure perfection.
Too bad he's an asshole. An arrogant, uptight corporate raider hell bent on destroying the environment one species at a time.
Everything about Olivia Ramsey screams hippie humanitarian. From her blond hair tied in a sloppy bun, to her faded jeans with the Bonnaroo patch sewn on the thigh, to her combat boots still splattered with mud from the previous day's site visit.
So it makes perfect sense that they would get married. In Vegas. Stone-cold sober.
Cole needs a wife. Olivia needs to save an endangered species. But what starts as a marriage of convenience soon turns into a battle of wills and sexual tension. Love is a game, and Olivia and Cole are ready to win.