Blackthorne (Heart of Fame #8) by Lexxie Couper: This is a super hot read with lots and lots of emotionally charged sex. The plot is good as well, however, I had difficulty forming a connection with the main characters at the beginning. Yet when Ms. Couper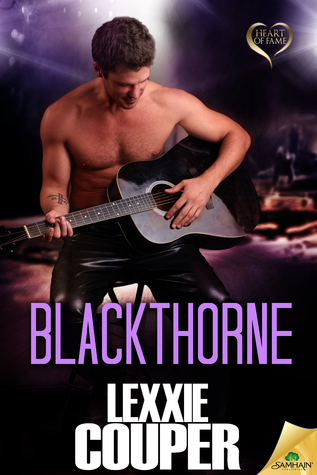 got her groove on, I could not put this book down. So if you enjoy the rock star romance trope, then this book is for you.
Caitlin Reynolds successfully owns and runs Chaos, the hottest nightclub in Sydney, Australia. She is a minor celebrity these days, due to her association with her sort of ex-fiance, Dr. Matt Corvin. Matt was with the Doctors Without Borders organization, when his body was found after an attack by Somalian militants. Now he is presumed dead and because he and Caitlin never disclosed their relationship status, the country mourns her loss. Caitlin and Matt actually broke up months before he left for Somalia, but no one knows that. Although Caitlin is grief stricken, she is also very attracted to Josh Blackthorne, the sexiest and most talented rocker in the world today, who just happens to be patronizing her club. Little does she know that her uncle asked him to check in on her.
Josh was told to get out of dodge and hang low, after his stalker was let out of prison. So spending time with his family in his home country is not a hardship. In fact, he gets his best friend and former soccer teammate Rhys to come along. Stopping in to see Caitlin is just icing on the cake. Josh has been attracted to Caitlin for a long time, ever since he saw her picture in her uncle's home. Caitlin and Josh have an amazing chemistry, so once Caitlin works through her guilt, she is able to become one with Josh.
This story is filled with quite touching and moving moments. Caitlin's reaction to Matt's death along with Josh's ability to comfort her, was amazingly poignant. Ms. Couper's writing is so good, I thought I was in the same room with them. Caitlin's grief became my grief and I was devastated right along with her. Josh became my hero from that moment on, by absorbing Caitlin's sadness and just being there for her. Josh is not the stereotypical rock star, he is down to earth and real.
I have read a few books from this series and enjoyed them. Overall, this is a well-written story, with an intriguing plot, and main characters that have an amazing connection.
Book Info:

Publication: October 28th 2014 by Samhain Publishing, Ltd.
Caitlin Reynolds doesn't care if the rock star lookalike trying to get into her bar is who he says he is. Sticking to the rules is a big reason the Chaos Room is the hottest velvet rope in Sydney.
Okay, so he's freaking hot, but she's been ignoring her hormones since her fiancé left her to go be a doctor in Somalia and then went missing.
After a shattered knee ended his promising soccer career, it seemed only natural for Josh Blackthorne to follow in his father's rock-god footsteps. Now he's a megastar, lusted after by women—and men—the world over. But he's been in lust with Caitlin since he saw her picture years ago.
When Caitlin realizes Josh is who he says he is, she's the first to make it right. But no matter how badly his seduction makes her want to melt into his arms, there's a ghost hanging over their heads. A ghost who turns out to be not so legally dead after all…
Warning: Contains a rock star who's livin' the dream and livin' it large, a self-made businesswoman with a weakness for a cheeky smile, and a red-hot battle of tormented wills. May stimulate a desire to throw your panties onto the nearest stage.