In Bliss by Lynsay Sands, For the past five years, Lady Helen Tiernay has been hearing of the atrocities Lord Hethe of Holden, aka The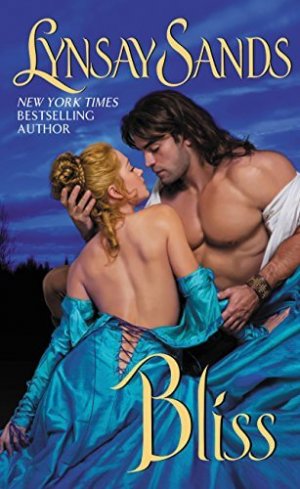 Hammer of Holden, has allowed to befall his people. And where his land borders her own, she's been taking in those lost souls in need of work and a place to live. Writing to King Henry II on the issue hasn't worked thus far. But when a royal decree is brought to Helen, commanding her to marry Lord Holden, she is appalled, shocked, and knows she must form a plan to rid herself of him before they say their vows. When her plans begin to fail, casting her fiance as a man of good humor and charm, Helen finds herself looking at Hethe in a completely new way. Somehow the handsome devil has gotten under her skin. And with his life now being threatened, she's willing to do whatever she must to keep him–and their future–safe.
'But Helen's feelings had changed somewhat. The man she was coming to know as Hethe of Holden, and the man she had known as the Hammer, were not the same man.'
King Henry's orders to marry Lady Helen, aka the Tyrant of Tiernay, is not what Hethe ever expected to hear. Their disputes over how to rule their respective land and people has been a nuisance, but Hethe will admit that his focus the past decade has mainly been on waging the King's war. He thought he had left the right people in charge in his absence but if he is to believe Lady Helen, he has made a grave error. So while he sorts out the trouble in Holden and tries to figure out who has been giving gruesome orders on his behalf, Hethe is also faced with Helen's dirty tricks to push him away. As amused as he is with her ploys to end their betrothal, there's no use fighting the King's wishes. And he has a feeling that once he can get his future bride to understand this, they will have a chance at a fiery relationship that could benefit them both.
'Maybe this marriage would work out. Perhaps the unfortunate beginning they had known would give way to a successful union. If she turned all that passion and creativity she had used to torture him toward finding ways to please him…'
Bliss was a hilarious enemies to lovers historical romance with a forced marriage, prank wars, and a bit of mystery to top it all off nicely. Well, in addition to the heat between our hero and heroine, as you would expect from a book written by Lynsay Sands.
'He had liked and admired her from the first time they met. Love wasn't a large jump, from there and she was definitely a woman worthy of such devotion. But was he a man worthy of her love?'
Poor Hethe. Poor, poor Hethe. Our hero went through more than his fair share of issues in this book. Whew. Not only was he forced to enter into marriage with Helen, whom he didn't know very well and who did everything in her power to push him away–funny pranks and otherwise–but he also had someone out to murder him. Author Lynsay Sands admitted that she was "going through something" when she wrote this and kind of took it out on Hethe and boy she wasn't kidding. He thankfully had the personality to take it all in stride (for the most part) and even got his own funny hi jinks and digs in. But there were times when it almost seemed what Helen was doing was a wee bit mean spirited. It all worked out perfectly well in the end, however it was a bumpy road getting there.
The characters and the spot of mystery was what held my attention in this story. Usually it's the romance, and that was definitely fun and passionate, but the cast Sands created here amused me and had me intrigued to no end. I liked seeing how spunky and intelligent Helen was in dealing with Hethe and his men but yet how endearingly kind she was with her own people in Tiernay. And Hethe himself was so different than how he first came across in the story. I ended up adoring him as a hero and cheered him on to figure out he was in love with Helen and to overcome his sad past. The supporting characters were every bit as well developed and were a huge part of the storyline. For me, it wasn't too difficult to figure out who was after Hethe but it was trying to discern if anyone else was in on it that had me questioning things.
Looking for some lighthearted medieval fun? This reissue of Bliss, originally published in 2001, is sure to fit the bill and will likely leave readers laughing and sighing dreamily with its lovely HEA.

Book Info:

Publication: July 25th 2017 (first published September 1st 2001) | Avon |
No one blends humor and sensuality like New York Times bestselling author Lynsay Sands in this captivating story of feuding nobles forced to marry…and destined to fall in love
Love thy neighbor, 'tis said. A fine idea, except when the neighbor in question is Lord Holden. Lady Helen Tiernay has complained frequently about his treatment of his people. Too frequently perhaps, for the king intends to curb their constant bickering by ordering them to wed. Helen can't refuse a royal decree, but she'll do everything possible to drive away her devilishly attractive husband-to-be.
Holden has faced all manner of horrors on the battlefield. But marriage to "the tyrant of Tiernay" is still a worrying prospect—until he glimpses Helen in the flesh. What flesh it is…soft, lush, made for his touch. If she weren't so intent on thinking up devious ways to prevent consummating their bond, Helen would see how perfect they are together, and that a marriage begun as enemies can turn to absolute pleasure.