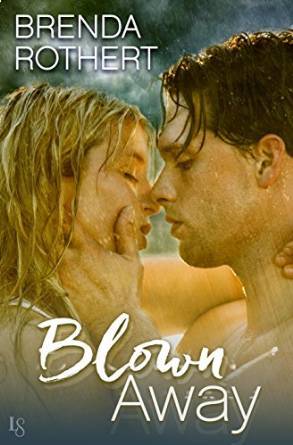 Blown Away by Brenda Rothert: A year after Drew's fiancé dies, she's ready for a change. Something new that'll shake up her life. And what else besides joining her fiancé's storm chasing crew? The last thing she ever expected was to find romance, least of all with Aiden.
Aiden has been in love with Drew for years, but always stayed away out of his respect for his best friend, Drew's fiancé. But now, stuck in close quarters with Drew showing signs of interest, Aiden can't hold back his attraction.
"I like the way you look at me," I said, meeting his eyes boldly.
Would he bristle and deny it? He just held my gaze silently for a second.
"Well, I can't seem to help myself," he finally said. "Same as every other guy in this place."
"I haven't noticed anyone but you. I held my breath as I stared at him, his eyes full of something I couldn't decipher.
I really enjoyed Blown Away. Normally, the death of a past romance really annoys me because then the reader is forced to sift through so much guilt and whatnot, but Rothert did a great job of keeping it both lighter and believable.
Not the deepest story or characters, so I wasn't able to get fully emotionally involved, but even so I loved Aiden and Drew. Drew is forthright with her wants, and Aiden is protective and sexy. And once he can assure himself all is good with Drew, he, too, holds nothing back in their romance.
The storm chasing aspect of the story, as well, I really liked. You didn't see too much of it, but it's a fascinating premise that I definitely want to see more of – more of the crew would be awesome, too.
Overall, if you want a moving on read or something a little interesting, I highly recommend Blown Away.
Book Info:

Publication: May 3, 2016 | Loveswept |
In an emotionally charged, wickedly hot novel of love and loss, a passionate affair gives two daring storm chasers the strength to overcome shattered dreams and the courage to build a future together.
One year after her fiancé died in a heartbreaking accident, Drew McGovern decides to honor his memory by joining his old storm-chasing buddies on their latest excursion. What she's not so sure about, however, is whether she's ready to move on. Drew wasn't expecting to feel the powerful pull of desire toward Colby's best friend. But there's no denying the intensity of their connection . . . or the heat he inspires in the parts of her that are still very much alive.
Aiden O'Neal doesn't trust himself around Drew. He's wanted this girl for a long time—long enough to remember the stab of jealousy he felt the first time he saw her in Colby's arms. Now he's trying his best to behave himself. But when the wind starts blowing and the adrenaline starts pumping, Aiden can't resist the urge to claim Drew as his own. Because when it comes to desire, he's hoping to make lightning strike twice.