Blue Blooded by Shelly Bell is the third in the Benediction Series, but can be read as a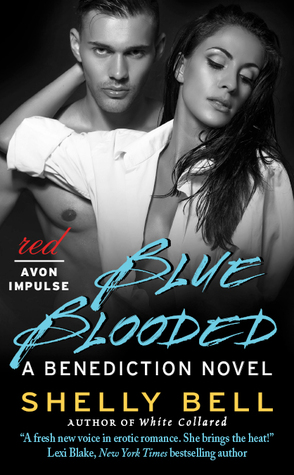 standalone. You won't miss anything vital by not reading the previous books, but you will definitely want to check out the rest of the series.
Rachel is a reporter who wants an inside scoop on Club Benediction. For those who haven't read this series, Club Benediction is like a sophisticated BDSM club. They just don't let anyone in there. It's an exclusive club with people who know what they are doing and who take their kink seriously. Rachel is intrigued professionally and when Logan offers to let her experience firsthand what goes on there, her interests turn personal.
Logan and Rachel were very appealing to read about. Rachel is all about control and so is Logan. Logan is a dominant and on the outside, Rachel doesn't seem to have a submissive bone in her body, but Logan sees something in her that has her second guessing herself. When they both witness a murder and have to flee to safety, they find a balance they can live with, at least temporarily.
Blue Blooded is exciting, thrilling and sexy, all wrapped into one book. Shelly Bell gives us dirty politicians, intense sexual desires, suspense that will leave you on the edge of your seat, and romance that will leave you breathless. A must read for anyone who enjoys a little BDSM with their romance.

Book Info:

Publication: October 13th 2015 | Avon Red Impulse | Benediction #3
A woman who refuses to be tied down…
Investigative reporter Rachel Dawson is always looking for her next big story. While working on a feature about BDSM, she lands a one-night, no-holds-barred pass into the exclusive sex club, Benediction. Rachel doesn't have a deviant bone in her body—or so she thought—until the infuriating, ex-soldier Logan Bradford convinces her to try rope bondage under his capable hands. But a steamy night turns deadly when Rachel and Logan witness a gruesome murder.
A Dom who's determined to bind her to him…
Framed for a crime they didn't commit and hunted by corrupt FBI agents, they flee. As Rachel and Logan search for evidence to clear their names, the attraction they've been fighting ignites into fiery passion. Love is the last thing Rachel wants, but night by night, as Logan binds her body, he unravels the knots around her heart. And when they uncover a shocking political conspiracy, Rachel will stop at nothing to reveal the truth…and it just might kill her.