Blurred Lines by Lauren Layne: Best friends since their freshman year in college, Parker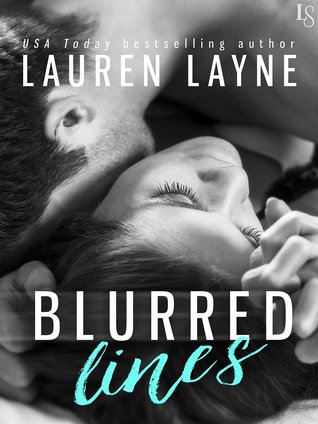 and Ben have been by each other's side for everyone. Even leading to them living together for the past six years.
"'It's just that I can't…I don't think I'll like it. You're too much like a brother.'
Brother?
Brother?
Yes, Parker and I are platonic, and, yes I love her as if she were –. No. No. I can't even put the word Parker and sister in the same sentence.
Right now ,y cock's all too aware that she's not my sister, and that she's insulted my kissing skills."
But when Parker's long-time boyfriend breaks up with her, and when she realizes she needs a really good physical-only connection with someone, their relationship is going to go a whole new direction.
Agreeing to a friends with benefits relationship for as long as they want each other, honesty is key, Ben and Parker cross the line they spent years defending their friendship against.
And when things get physical, maybe they are just more than friends.
Normally I'm not a huge fan of friends to romance because it usually isn't very hot to me. I like some sort of passion noticed when my hero and heroine meet. But Blurred Lines completely beat my expectations.
I love both Parker and Ben both so much, as best friends and even more as a couple. They're perfect for and with each other. And thankfully, it wasn't such a long path to romance. It was very hot and passionate between the two for the majority of the story.
And they were just so intuitive with one another even while keeping their friendship, and romance fresh. So easily I feel they could have fell flat, but instead, even though they knew each other so well, there were surprises. And it definitely kept me interested.
And while nearing the end frustrated me a bit with their decisions, it ended on a fantastic note. Truly, for any romance reader I recommend Blurred Lines.
Book Info:

Publication: August 25, 2015 | Loveswept |
In a novel that's perfect for fans of Abbi Glines and Jessica Sorensen, USA Today bestselling author Lauren Layne delivers a sexy take on the timeless question: Can a guy and a girl really be "just friends"?
When Parker Blanton meets Ben Olsen during her freshman year of college, the connection is immediate—and platonic. Six years later, they're still best friends, sharing an apartment in Portland's trendy Northwest District as they happily settle into adult life. But when Parker's boyfriend dumps her out of the blue, she starts to wonder about Ben's no-strings-attached approach to dating. The trouble is, even with Ben as her wingman, Parker can't seem to get the hang of casual sex—until she tries it with him.
The arrangement works perfectly . . . at first. The sex is mind-blowing, and their friendship remains as solid as ever, without any of the usual messy romantic entanglements. But when Parker's ex decides he wants her back, Ben is shocked by a fierce stab of possessiveness. And when Ben starts seeing a girl from work, Parker finds herself plagued by unfamiliar jealousy. With their friendship on the rocks for the first time, Parker and Ben face an alarming truth: Maybe they can't go back. And maybe, deep down, they never want to.