Blush (Burlesque Bombshells, by Nicola Marsh: Accountant Adele Radcliff grew up poor with an alcoholic mother to take care of and she did whatever was necessary to support both her mother and herself. After her mother passed away, she moved to Las Vegas to begin a new life. Adele took a job as a burlesque dancer while attending accounting school part-time. She dreams of having a loving relationship and family.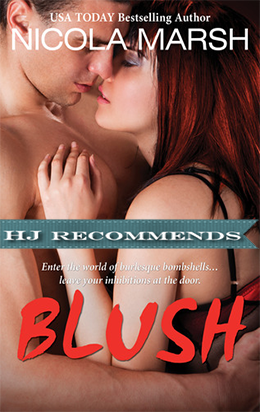 Reid Harper is a long-standing politician currently living in Los Angeles and serving in the House of Representatives. Most recently, he finds being a politician draining and he feels that life is passing him by. He wants a love life, stability and a job that allows him to have both.

When Adele and Reid meet at a mutual friend's wedding, there is instant electricity. So much so in fact, that they agree to a one night fling, find a secluded beach cove and drive each other crazy for a few hours. When they separate to go back to their everyday lives, they feel bereft. Little did they know that spending a few hours together would change their lives forever.
I loved this story. The author's writing style is smooth and effortless. The story is interesting, sexy and passionate. It was easy to connect with the characters and enjoy their banter and realism. I highly recommend this book!
Book Info:

Published August 19th 2013 by Nicola Marsh
Laying it all on the line for love…
Adele Radcliff has worked hard to erase the sins of her past. The ex-burlesque dancer is now an accountant in Vegas and has her life on track. Until one steamy interlude with her friend's brother changes everything…
Reid Harper may be tired of the hand-shaking, back-slapping and baby-kissing, but politics is all he knows. His job consumes him. Until he meets Adele and the gorgeous redhead becomes his new focus.
Reid wants a relationship, Adele doesn't. A decision reinforced when Adele discovers she's pregnant. She has too many secrets to hide and can't risk Reid getting too close.
But Reid has other ideas and when he learns the startling truth, how far will he go to prove their future is more important than the past?