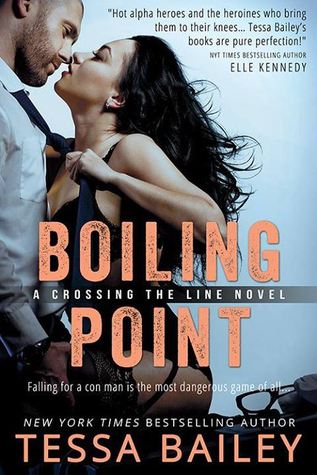 Boiling Point by Tessa Bailey: Instead of serving time, both Austin and Polly are now working on an unusual team of criminals working with the cops. Since joining the team, Austin has been drawn to the sexy hacker. As a con man, he's quite used to women falling at his feet, but Polly is having none of it. Austin has made zero progress over the six months they've been working together when he finally steps up his game.
"They're backordered because I bought all of them out. I've a single packet in my right front pocket, same as there will be every day."
"I knew there had to be a catch," Polly breathed. "You're going to dole it out. Conditional gifts aren't gifts at all, Shaw."
"I've graduated to playing dirty, Banks. I'm not proud of it," he said, his voice low and vibrating.
Polly finds the sexy Brit to be absolutely infuriating. She also has much more important things on her mind than Austin's latest game. She can't trust a con man after one destroyed her family. Until Austin offers to help her on a side project that has become more dangerous than she realizes.
Austin doesn't have many weaknesses, but his need for Polly is one. He's an alpha who is used to playing the game and being in control. But for Polly, he's willing to do what he needs to get her, keep her, and protect her. She's a game changer for him, but he's not sure that he can overcome his past to be the man she deserves.
"I h-hate you."
He made a sound of disappointment. "Here I am trying to make you well and you're taking shots at me." She could hear his audible swallow behind her. "Apologies don't come easy to me, but I'm harboring a fair bit of regret over this morning. You deserved…holding. There will be holding next time, Polly."
Boiling Point is a sexy, thrilling battle of wills. Tessa Bailey created intriguing and nuanced characters with smoking hot chemistry. Ms. Bailey knows how to write a dirty talking alpha male who has finally met his match in a sassy, independent woman. Fans of Roni Loren, C.D. Reiss, Lexi Blake, and Shayla Black will enjoy Boiling Point.

Book Info:

 Expected publication: January 26th 2016 | Entangled: Select | Crossing the Line #3
Falling for a con man is the most dangerous game of all…
Con artist Austin Shaw's been in disguise so long he's not sure where his fake identities end and he begins. Now that he's been strong-armed into working for a specialized undercover unit working with the Chicago police—criminals with unique "skills"—the last thing he needs is to risk his iron control. Especially when it comes to a certain stunningly sexy hacker who tempts him with every look of disdain.
Polly Banks will never, ever trust a con man. On the trail of a ruthless crook who destroyed the only family she's ever known, Polly is unnerved by the shadow who follows her every move. The one who makes her pulse pound and breath short with lust. Austin. He's infuriating, enigmatic, and pure sex appeal, and she's determined to resist him.
But an untrustworthy man of disguise can become anyone he wants…including a man that Polly must trust if she's to escape their dangerous game alive.